When searching the best neck knife there's a few things you need to consider. While you want your knife to be strong, sharp and well built, it also needs to be lightweight, (you're carrying it around your neck after all) with a sheath that is as reliable as possible.
So which one do you buy? To help with that question we have brought together 5 top rated neck knives currently on the market.
The table below gives you our selection at a glance, and for full reviews of each along with a dedicated buyer's guide, keep on reading.
---
Top 5 Neck Knives
PRODUCT
FEATURES
TOP PICK
1. Ka-Bar BK11 Becker Necker Neck Knife

Great for collectors and outdoor services
Tested to ensure quality and durability
BK11 Becker

Check Price
RUNNER UP
2. Columbia River Knife And Tool's Folts Minimalist Bowie

Bead Blast Blade Finish
Compact Utility Neck Knife
Glass-Reinforced Nylon Sheath

Check Price
3. ESEE Izula-II Knife with Sheath

Overall Length: 6.75″, Blade Length: 2.63″
Blade Material: 1095 Steel
Blade Finish: Black

Check Price
4. Boker Plus 02BO670 Cera Fixed Blade Neck Knife

Ceramic blade is easy to sharp and stays sharp
Paracord wrapped handle for survival situations
Includes Kydex sheath for easy carry

Check Price
5. Cold Steel Secret Edge Neck Knife

Blade Thick: 2.5mm
Blade Length: 3-1/2″
Handle Length: 3″

Check Price
---
What is a neck knife?
While the question may seem a little obvious, a neck knife is clearly a knife you wear around your neck, there is actually a little more to it than that.
First off a neck knife normally has a small fixed-blade of no more that 3 inches. The blade can vary in style, with the choice you go for very much down to personal preference and planned usage: plain, serrated and single-edged knives are all catered for.
An important part of the neck knife is the sheath. This is generally molded to the shape of the knife so that the entire blade is able to snap securely into place. (The last thing you want when wearing a neck knife is a loose blade striking across your flesh).
The sheath is harnessed around the neck via a bead chain or paracord looped into its base.
The knife can actually be worn in two ways, with the blade pointed down (known as the Mountain Man carry) or with the blade pointed up.
Deployment is easy on a neck knife. Just give the tool a tug to free it from the sheath and it will be ready for action. To return your knife to the sheath, it's just a case of sliding the blade back until it 'clicks' and locks into place.
[If you require a carry knife with a longer blade a good boot knife may fit the bill instead.]
---
Benefits of owning a neck knife
There are many benefits to owning a neck knife and in some situations the convenience of the tool can really come into its own.
Here's a look at some basic scenarios where a neck knife can be a real benefit.
Survival, bush craft & self-defence
There's a good reason for wanting to carry a knife around your neck. The main one being the location around your upper chest is within your circle of greatest control, awareness, and accessibility.
For those engaging in survivalist pursuits or requiring a knife for self-defence, this accessibility and speed of deployment are hugely beneficial factors.
Also, many enthusiasts consider carrying a neck knife to be far safer than carrying a knife loose on the hip or across the small of the back.
If you are out in the wilderness and slip or fall, you are more likely to stab yourself if the knife is positioned in one of the latter areas.
Another reason the neck knife is so useful for self-defence is due to the fact they are a fixed blade tool. No time is wasted in opening the knife, it is just a case of draw and use.
Most neck knives are also simple in design (while being very strong). There's no chance of malfunctioning locks. A neck knife is exactly what you need in a potential life or death situation.
Rock Climbers
Neck knives really come in to their own for rock climbers too. When making your way up a sheer rock face, a clip folder in a pocket can easily be yanked out and fall down, (in some cases onto an unfortunate climber below).
A belt knife can also prove problematic. The harness and or backpack hip belt can get in the way or even overlap making things uncomfortable and deployment awkward.
A good neck knife has none of these issues. As long as the tool is tucked firmly beneath the shirt, (if you're the kind of climber that dangles upside down, you don't want the knife slipping into your face), you will have your knife easily accessible when required, while being safely out of the way at all other times.
Cycling, swimming & Kayaking
Kayakers can enjoy the benefits of a neck knife too. When sat in a kayak having a knife attached to your belt is going to be a chore to get to. Around the neck is by far the most convenient place to have your knife, especially when wearing a PFD.
If you are a swimmer in need of a knife, you have no where to attach your tool (unless of course you are scuba diving – see our best dive knife article here). Having a knife looped around your neck is your only option.
If you are a keen cyclist (and wear all the Lycra gear that comes with that) you may find it difficult to mount your knife around your waist. The backpack is hardly convenient should you need the tool in a hurry. Again, wearing it around your neck is a very convenient option.
Fishing
If you like to get waist deep in the water when fishing, a neck knife may well prove a handy addition to your gear.
Chest waders narrow down the options when it comes to harnessing a knife to your body. The neck is one of the few accessible areas you have left at your disposal.
Cold Conditions
Finally, a neck knife can be a really good option in extremely cold conditions.
The fact you are carrying the knife close to your body means it will be at warm temperature when you come to use it. This is especially beneficial if you have intricate fiddly work to carry out.
A neck knife also makes sense from a clothing perspective. If the knife is worn as an outside belt (for accessibility), it would compress the loft in any insulating clothing. While having the knife beneath your clothing and being forced to open and close a parka just to get at it, would cause undue heat loss.
An easy to access cord around the neck in which to pull your knife ready for use solves all of these issues in a very efficient manner.
[If a carry flipper knife is more your thing, check out our top 5 flipper knife reviews here.]
---
The 5 Best Neck Knives in 2019
The Ka-Bar Becker Necker is our top pick neck knife because it perfectly balances robust design, affordability and an excellent level of what we would call customizability, (we'll explain more on that in a bit).
We will add that the Ka-Bar is not the 'best neck knife' in our list. There are knives here (such as the Izula II) which are built using superior materials, however for an all round reliable tool, the Becker Necker is difficult to beat.
Let's take a closer look.
First off, the knife is made from one piece of 1095 Cro-Van steel. This covers the main variables you need in a good knife blade; the carbon steel is easy-to-sharpen and it can hold a keen edge.
The blade itself is an excellent length and shaped to be used as an everyday carry for out in the field. The grind is flat and the spine is more than strong enough for prying tasks. Importantly this beast comes from the factory super sharp.
What you have with the KaBar (as is the case with much of their range) is a quality functional design with no extraneous details. The fact it is made from one piece of steel with no unnecessary extras on the handle makes the knife ripe for customizing. And that's exactly what a lot of users end up doing.
Whether it's adding paracord to the handle, or melting plastic over it or looking for a different kind of neck harness, the basic (yet high performing) design of the knife gives you that perfect foundation with which to add your own touches.
But why would I buy a knife I have to upgrade, we hear you ask.
Basically you don't have to. The Ka Bar Becker Necker works superbly straight from the factory. We're just suggesting that you can add your own personal elements, which in our opinion is a real plus point.
What about the sheath?
In our neck knife buyer's guide below we discuss the importance of the sheath in your purchasing decision. The Becker Necker scores highly here.
While they haven't opted to use the recommended kydex, the material used (an injection-molded, glass-filled nylon), is strong, durable and fastens the knife in a manner that definitely instils confidence.
The sheath is even designed to work with the TDI metal belt clip, should you wish to mount your knife that way instead.
---
[su_box title="Pros of the Ka-Bar BK11 Becker Necker Neck Knife" box_color="#43ba55″ radius="1″]
Made from one piece of 1095 Cro-Van steel (this knife is strong)
Sharp, easy to maintain with versatile everyday carry style blade
Superior sheath design that fastens the knife well
Simple design ethos tat allows for customization
Compatible with TDI metal belt clip
[/su_box][su_box title="The Cons" box_color="#527a7a" radius="1″]
Some may be put off with the simplicity, and the fact the handle isn't wrapped
It is a small knife at 6-3/4 inches (not great if you have large hands)
[/su_box]
Bottom Line
Overall the KaBar BK11 Becker Necker Neck Knife is a great tool for the money. Extremely strong, sharp with a pleasing simplicity of design this is a knife that gets the job done with little fuss.
Add the ability to customize the tool to your liking and you have something that you will likely hold onto for years to come. A top notch purchase that you won't regret.
---
2. Columbia River Folts Minimalist Bowie
The Columbia River Folts Minimalist bowie comes a close second in our 2018 best neck knife review roundup. In some cases this may appeal to people more than our top pick KaBar. Let's take a closer look at what it has to offer.
First off, the deep-bellied clip-point Bowie style 2.125 inch blade shape will definitely have its fans. Excellent for wilderness carry and camping chores, this is a durable knife made from 5Cr15Mov stainless steel.
And while this isn't the toughest blade material in the world, it will hold up to the majority of intricate survivalist tasks out in the field.
Sharp straight out of the box, the overall design of the knife prioritises ease of use. The handle is comfortable despite the small size, with the finger grooves being designed with ergonomics in mind.
The handle features contoured green black Micarta scales, which look that part while offering the level of grip and control required when using the knife in slippery conditions.
The minimalist comes with a custom-fitted glass filled nylon sheath (Zytel for those interested).
The knife is held securely in place by a positive detent that locks the base of the blade in place for maximum safety.
Because the knife and sheath weigh about two ounces together, it is a personal carry you will barely notice. (The knife is very light and comfortable when worn around the neck).
---
[su_box title="Pros of the Columbia River Folts Minimalist Bowie" box_color="#43ba55″ radius="1″]
Excellent bowie shaped design making the knife ideal as a wilderness carry
The handle is very comfortable, offering great user control
Robust sheath – the knife is very firmly held in place
Lightweight design for wearing around the neck
[/su_box][su_box title="The Cons" box_color="#527a7a" radius="1″]
The steel used is not as strong as some of the other knives listed here
They didn't use kydex for the sheath
[/su_box]
Bottom Line
The guys over at Columbia River have produced a great tool that will appeal to many. While it doesn't have the robust simplicity of the Ka Bar, it does offer a more refined level of user control.
If you want your neck knife ready for action straight out of the box, this could very well be the top choice for you. Highly recommended.
---
The ESEE IZULA II is our best premium neck knife choice because it is such a fine example of superior craftsmanship in small, strong and beautiful tool.
Perfect as a concealed carry knife, the Izula II features a 1095 carbon steel blade, and a high quality, wear resistant textured powder coat finish.
There's a pommel hole to accommodate the carabiner, with thumb grippers on the spine.
All these details are made with a build quality that cannot help but impress. The finish is excellent on this knife. Everything fits together well, included the well shaped handle complete with canvas Micarta handle scales.
The knife comes with a black molded sheath with a satisfying level of blade fastening ability. You can be confident that your knife will not fall out of sheath, yet when you need it in a hurry the blade is released instantly with thumb pressure.
A belt clip plate is also included for alternative mounting. To top it all off, the Izula II is made in the good old USA.
---
[su_box title="Pros of the ESEE Knives Izula II Knife with Molded Sheath" box_color="#43ba55″ radius="1″]
Superior build quality with excellent finish
Sharp and sturdy blade, made with reliable 1095 steel
The sheath means business and holds the blade fast, period
A belt clip is also supplied
Made in the USA
[/su_box][su_box title="The Cons" box_color="#527a7a" radius="1″]
Being a premium level neck knife, the cost may put some people off as the barrier to entry is higher.
[/su_box]
Bottom Line
A beautiful tool that you will be proud to own and use. From the build quality, to the finish, to the wonderful looking (and comfortable) canvas micarta handle. If you're after one of the best neck knives around, this could very well be it.
---
4. Boker Plus 02BO670 Cera-Neck Fixed Blade Knife
The Boker Plus Cera-Neck Fixed Blade Knife makes our top rated list as a cool alternative to the majority of tools available; the difference being that this features a super sharp, ceramic construction.
The benefits of ceramic rest in the fact it is corrosion-resistant, (excellent if you are planning on using the knife in wet or humid conditions) and holds an edge better than many steel options available.
Boker have opted to wrap the handle in paracord, (great for a confident grip in survival scenarios.) Furthermore, the hilt is modifiable should you wish to add plastic or other handle materials instead.
The Boker is small mind you, with the blade itself measuring in at 1-⅝ in. long. The overall length is 4-¼ in and with a weight of only 1.03 oz. this is an easy neck carry that can be worn very comfortably.
An excellent Kydex sheath is supplied and this harnesses the knife very well indeed.
---
[su_box title="The Pros Boker Plus 02BO670 Cera-Neck Fixed Blade Knife" box_color="#43ba55″ radius="1″]
Solid 100% ceramic construction – super sharp, excellent edge retention
No rust issues – very simple cleaning and care. No oiling, no sharpening
Nice and compact, an easy carry with a well made kydex sheath
Limited Lifetime Warranty
[/su_box][su_box title="The Cons" box_color="#527a7a" radius="1″]
Fragile edge (as with any ceramic knife)
At 1 5/8 inches in length, the blade is on the small side which may put people off
[/su_box]
Bottom Line
If you're after a neat EDC knife that never dulls, this ceramic option from Boker could well be the knife for you. Highly recommended.
---
5. Cold Steel Secret Edge Knife
Cold Steel need no introduction. This popular knife brand has a consistent output of affordable yet quality tools. The secret edge knife fits in to that category perfectly.
The name states everything you need to know. The secret edge neck knife is highly concealable, rail thin and very light.
Cold Steel state that the Secret Edge is so slim it virtually disappears under clothing and, at 3.2 ounces (including sheath) it clearly is a handy little knife to wear.
The knife features a flat ground Japanese AUS 8A Stainless blade. Opting for a design that includes a wide blade base for increased cutting power and a narrow tip for superior penetration, the knife performs very well across a number of tasks.
To assure a good grip the Secret Edge is equipped with an ultra thin, flat G-10 Griv-Ex Style handle.
Incorporating three holes in order to reduce the overall weight, the surface of the handle is aggressively textured surface so that it sits firmly within the palm.
The 'Secure-Ex' sheath does the job it is designed to do, offering reliable retention while allowing for speedy withdrawal when required.
---
[su_box title="Pros of the Grizzly T25101 English Wheel" box_color="#43ba55″ radius="1″]
Affordable
Reliable Japanese AUS 8A Stainless blade
Well made flat G-10 Griv-Ex Style handle
Easy to conceal and lightweight
Secure-Ex Neck Sheath for reliable retention
[/su_box][su_box title="The Cons" box_color="#527a7a" radius="1″]
The blade maybe a bit too thin for some users
The sheath mounts around the neck via a beaded hanging chain – if this is not your thing, it could put you off
The thin metal is easy to overgrind when sharpening
[/su_box]
Bottom Line
A great little EDC style neck knife that will please a lot of people for its affordability and small lightweight design. There's a few minor quibbles that are worth taking note of before you buy, however, despite these the Cold Steel Secret Edge neck knife represents a very good option.
---
What to look for when buying a neck knife
The style of knife
There are various styles of blades that you can opt for when buying a neck knife. For general use there is a shortened modified bowie-style blade. There's also karambit options and drop point blades. General EDC is covered too. The choice is really down to your own personal preference and what you plan on using the knife for.
Blade Steel Quality
As with any knife, the steel quality makes an huge impact on the performance and longevity of the tool.
If possible, try to avoid the cheap options. There's a reason a knife is priced at less than 10 dollars when you can easily pay several hundred. The cheaper knife will be made with inferior steel that will not last.
Cheap, mass produced steels such as 440A and 420 are best avoided if your wallet can afford better quality tools. Any neck knife that doesn't report what steel has been used (and goes for the blanket term, 'stainless steel') is again, probably worth avoiding.
Stainless Steel Edge Retention Chart (Credit: Heinnie.com)
A quality knife will list all the materials within the specifications, including the type of steel used. They have nothing to hide.
The bottom line is, you want your blade to be sharp, hold its edge, and be easy enough to hone back into shape, (rust resistance is also a big plus). The types of steel that enable this include, Japanese steels, AUS 8, German forged tools and any of the new super-steels such as 1095 high carbon.
Chinese steels are also more than adequate as long as you are buying your tool from a trusted brand.
The Handle
Many neck knives forgo the need of an intricate handle. This is a good thing. A paracord-wrapped handle is all you very often need. A knife of this type is just a single piece of steel. Ie extra strong with no rivets, tang or anything else that can be damaged.
However, if you find such a basic approach uncomfortable to hold, you can always opt for a knife with a handle as long as the material quality is up to scratch. Griv-Ex, FRN and Micarta, are some of the more widely used handle materials that stand up to time and consistent use.
While a wood handle looks great, it will require more TLC due to the fact wood will react to moist conditions as well as ranges in temperature.
Importance of the Sheath
The integral part of a neck knife is the sheath. If this is of low quality all manner of issues will occur: your knife may fall without you realising, it may be too difficult to withdraw when you need, the sheath may be abrasive against your skin, or maybe the tip of the knife will wear through and end up cutting you.
So what makes a good sheath? Superior engagement for one. When the knife clicks into place, you need to know that it will not become loose.
Kydex is the sheath material you should go for. (glass nylon, Conceal-Ex, or other thermoplastic polymers will also suffice). The sheath has to have a fit that allows for the knife to snap it to place. The fact is, the blade is only retained in the sheath by friction and form-fit.
You should avoid leather, or normal plastic sheaths. These will not fit around the blade so snugly and are prone to wear and tear over time. The end result being a sheath that no longer holds your knife as it should.
The Lanyard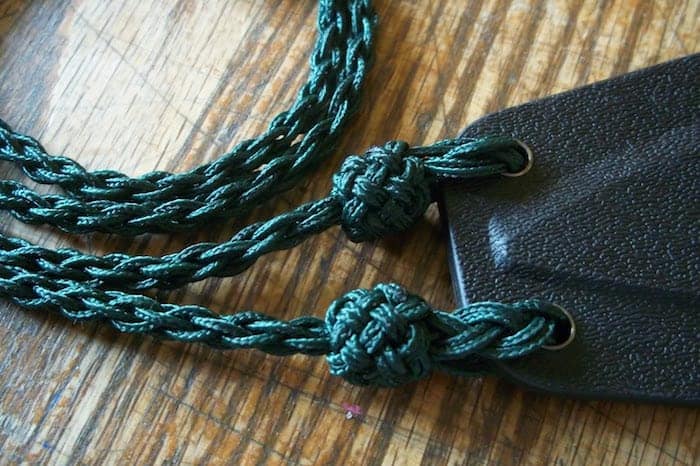 The lanyard is what hooks the sheath around your neck. You have two choices here, paracord or ball chain. Both are equally as good and again it is just down to preference (or what comes with your chosen knife).
The important factor here is strength, material texture and overall durability. You want the lanyard to be able to take a lot of pressure (should the cord get snagged) and feel good against your skin.
Adjustability is also a factor so that you can extend or decrease the length of the lanyard to suit how you wish to wear it.
Overall weight
Weight is an important factor as you will clearly be wearing the tool around your neck. This is a good reason to go for lightweight handle design as well as tough, carbon (yet lightweight) steels.
---
How to wear a neck knife
Beyond the obvious fact that a neck knife is worn around your neck, if the pursuit you are undertaking allows for it, you should also wear the knife under your shirt.
This will make you look less threatening if you're walking down the street in a public area, (and the police off your back). It will also stop the sheath from bouncing around and irritating you or getting snagged on things.
If you are worried about cutting yourself when drawing a neck knife, all you need to remember is to pull away from your body when deploying. Down and away is the name of the game. A little practice in private can help too.
---
That concludes our review of the 5 best neck knives on the market! Which one did you end up getting?
Further reading:
Summary
Article Name
The 5 Best Neck Knife in 2019: Reviews with Comparison Chart
Description
What's the best neck knife on the market? Read our review and comparison of the top 5 neck knives available today to find out which one is best for you!
Author
Publisher Name
Publisher Logo