Welcome to our top 5 best boot knife reviews updated for 2019. There are so many boot knives available these days it can be hard to know what to opt for.Do you opt for a stainless steel boot knife or a ceramic one? Pay top dollar for a Gerber boot knife, or opt for one of the Spyderco offerings? And what is the best knife for self-defense? Well in this article we dive right in and give you all the answers you need.
Top-rated boot knives for the money in 2019
PRODUCT
FEATURES

TOP PICK

1. Smith & Wesson SWHRT9B Black HRT Boot Knife

Overall: 8.8″
Blade: 4.7″
Handle: 3.3″

Check Price

RUNNER UP

2. Cold Steel Counter TAC I VG-1 Stainless Steel 10BCJ1

Overall: 9.50″
Blade: 4.75″
Handle: 4.75″

Check Price
3. MTECH USA MT-20-03 Fixed Blade Knife 9-Inch Overall

Overall: 9″
Blade: 4.75″
Handle: 4.25″

Check Price
4. Gerber Ghoststrike Fixed Blade Knife Deluxe Kit with Ankle Wrap [30-001006]

Overall: 8.75″
Blade: 2.5″
Handle: 6.25″

Check Price
5. CT461 Colt Stacked Leather Handle Boot Knife

Overall: 11 3/8″
Blade: 6 1/4″
Double Edge

Check Price
(For an in-depth review of each knife plus a dedicated buyer's guide, keep on reading below)
---
Boot Knife 101
Boot knives are one of the best last resort self-defense tools. Those in the military and police officers will often carry a boot knife. Potential assailants will overlook the fact you may have a concealed weapon. By having a knife that is both hidden yet easily accessible could end up being a life-saver.Outside of self-defense, a small boot knife is very handy for camping or hunting. The knife is close by and conveniently available for use whenever it is needed.
---
What to look for when buying a boot knife
Quality boot knives are small enough to be concealed while being sturdy enough to be useful in a fix. A good length to go for is a knife with a blade of between 3 to 5 inches.The blade, which is often double-edged like a dagger on a boot knife, should have a sharp tip that penetrates easily.However, when purchasing a boot knife you need to ensure that it comes with a strong enough sheath to protect you from the sharp edge and the aforementioned tip. This knife is going to concealed close to your skin and you need to be confident that the blade will not penetrate the sheath and injure you.Beyond these safety precautions, proper containment of the weapon is also important in order to avoid any legal issues when carrying it on your person.
Boot Knife Blades
Suffice to say, the type of steel used in the production of the blade is one of the main factors determining the quality of the boot knife, (and the money you will need to spend).Overall, it is best to go for the best boot knives you can afford. By selecting a knife that has a cheap blade that is flimsy, (susceptible to chipping) or becomes dull after a short period of use will do you no good in the long run.Most boot knife blades are made from stainless steel. The quality of the metal is what's crucial here. Japanese forged steel is of superior craftsmanship, looking out for the grading of the materials too.There are a number of different techniques when forging and finishing steel blades, processes such as vacuum heat treatment ensure greater strength and longevity.
---
Getting a handle on it
The shape and material of the handle are very important. A boot knife is held close to the skin, you do not want a material that is too rough, however, the handle still needs to allow for a good strong grip.Plastic handles are often used by even the best boot knife brands, and while this is fine, there are varying degrees of quality in how the rubber is manufactured. When choosing a knife read reviews on the particular model to see what customers have said about the quality and comfort of the handle.
---
Some of the top producers of quality, tactical boot knives are Smith & Wesson, Cold Steel, and Gerber.These names are well established, with deserved reputations based on quality craftsmanship, good design and the use of superior steel, wood and plastic that they employ. If after reading our reviews you are still undecided – looking into other boot knives from these companies will put you in good stead.
---
Top 5 Boot Knives 2018 – The Reviews
Now it's time to take a closer look at our selected boot knife picks. The following knives balance affordability, quality construction and utility in just the right amounts to make them our top 5 picks.So if you're ready, let's get to it.
1. The Smith & Wesson SWHRT9B Black HRT Boot Knife
The Smith & Wesson SWHRT9B Black HRT Boot Knife made the number one post on our list because it balances great value for money with the superior build quality.The knife features a double-edged spear blade coated in stainless steel. The blade section is strong, and sharp out of the box. The length of the blade is 4.743 inches, with the entire knife being 8.843 inches long. Total weight is 7.7 ounces.The handle is on the small side, however, the grip feels very good in the hand. It is coated with what feels like rubberized sandpaper; you will have no problems with the Smith & Wesson boot knife in wet and slippery conditions.The sheath is thick, solid and well made. Holding the knife close to the skin is not a problem with this knife. The release mechanism is nice and efficient too, just a quick snap and the strap that holds the knife in place is opened up ready for you to pull the knife into action.
---
Specifications
Overall Length: 8.8″
Blade Length: 4.7″
Handle Length: 3.3″
Weight: 7.7 oz.
Blade Material: 7Cr17
Handle Material: Rubber
Knife Type: Fixed Blade
Blade Style: Dagger
Edge Type: Plain
Finish: Black
Color: Black
---
Bottom Line
Smith & Wesson is an excellent budget buy. It is very well made. The handle could be a bit small for some; you may also prefer your knives to feel a bit heftier than this one. However, these are only minor issues for an otherwise top quality boot knife from a very reputable brand.
---
2. Cold Steel Counter TAC I VG-1 Stainless Steel 10BCJ1
The Cold Steel Counter TAC I VG-1 Stainless Steel 10BCJ1, is currently the most expensive boot knife in our top 5 list, but the extra money spent is worthwhile and very evident with the build quality you are getting.First let's look at the Japanese made blade. The Cold Steel Counter features a full tang blade made from polished Aus 8A stainless steel. This is vacuum heat-treated and sub-zero quenched for strength. In other words, this boot knife is one of the strongest and sharpest you can buy.Tac knives are hollow ground and utilize a needle-sharp pointed tip that provides effortless penetration.The handle is comfortable and has a deeply textured surface in order to ensure a positive grip in even the most demanding conditions. It also features a double guard so that the knife won't fly from your hand even when used under considerable force.The sheath is solid and grips the knife well. Maybe even too well. The clip and lashing slots fasten the boot knife very firmly, meaning it can take a second or two to unclip, (not the best if you find your self in a self-defense situation where time is of the essence).
---
Specifications
Overall Length:

9.50″

Blade Length:

4.75″

Blade Thickness:

0.20″

Handle Length:

4.75″

Weight:

4.90 oz.
Handle Material:

Kray-Ex

Blade Material:

VG-1

Sheath:

Kydex
Blade Style:

Dagger

Blade Grind:

Chisel

Edge Type:

Plain

Color:

Black

Knife Type:

Fixed Blade

Best Use:

Tactical Knife
Bottom Line
What can we say – A double edge Cold Steel Boot Knife, made in Japan with VG1 steel. This is a high-quality knife at a very reasonable price considering the processes used to manufacture the instrument as well as the materials used.If you are in the market to spend a little more than the budget offerings in our list, you will not be disappointed with this.
---
3. MTECH USA MT-20-03 Fixed Blade Knife 9-Inch
The MTECH USA MT-20-03 fixed blade is a lovely looking boot knife. The beautiful wood finished handle sets this knife apart from the others on our list from an aesthetic point of view.
The 440 stainless steel blade is strong enough quality considering the budget price, (on par with the Smith & Wesson). The blade, which is 5 inches long and 3mm thick, arrives adequately sharp. The edge does come up well with a bit of honing all the same.The minor gripe with the Mtech boot knife is the sheath. The trade-off in the price/quality balance had to come from somewhere and here the sheath does let the knife down. The blade when in place sits a little too loose for our liking. It makes you think just how much wear and tear the sheath could endure before you have the cold steel of the knife-edge digging into your ankle.You could, of course, opt for purchasing a better sheath to accompany the knife. The fact the knife is so affordable in the first place makes this more than possible.
---
Bottom Line
The MTECH USA MT-20-03 fixed blade is one of our favorite boot knives on the market today. The knife itself balances the low budget with performance and style in a manner that made it a serious contender as our number 1 pick. However, the lackluster sheath meant the Smith & Wesson receives the accolade instead.Still, this is one of the best looking boot knives for the money. For that fact alone it is worth a look.
---
4. Gerber Ghoststrike Fixed Blade Boot Knife with Ankle Wrap
The Gerber Ghoststrike is possible the best military boot knife you can buy. The fact it comes with an ankle mounted sheath and can be worn with both boots or low cut shoe, also make it a very popular boot knife for police officers.Made with 420HC steel, the Ghostrike blade features a black ceramic coating. The impact of this is better corrosion resistance. It also increases the stealth value of the knife as it is non-reflective, (we said it was the best military knife you could buy).The design incorporates a fine edge drop point blade which allows for a greater slice and rips precision.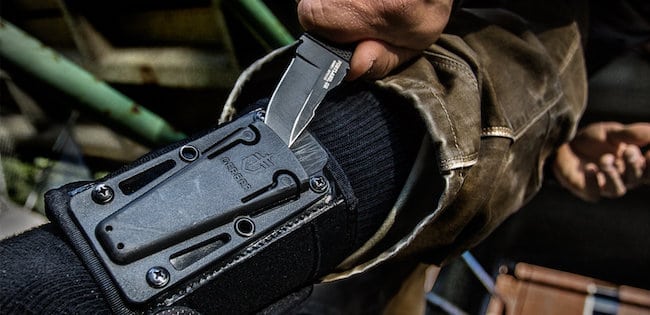 The knife is also ultralight considering it has full tang fixed blade. The team at Gerber set out to create a knife that was an as low profile as possible. With its compact skeletal fixed blade design, the knife is sized to be worn without making a profile against your outer clothing.This is of the reasons this is considered one of the best boot knives for police – it can be worn for hours at a time with comfort while being completely concealed.Furthermore, the rubberized, over-mold handle feels very good in the hand. It features a diamond texture grip, that allows for a superior grip in critical situations.The sheath mounts to a thin neoprene ankle wrap, however, the Deluxe Kit's also comes with optional belt loops and can be worn vertically or horizontally in an open-carry or low profile manner.
Overall Length: 8.75″
Blade Length: 2.5″
Cutting Edge: 7.5″
Blade Thickness: 0.8″
Handle Length: 6.25″
Handle Thickness: 1.6″
Weight: 6.1 oz.
Blade Material: 420HC
Handle Material: GFN
Sheath: Molded Plastic
Knife Type: Fixed Blade
Blade Style: Drop Point
Blade Grind: Hollow
Finish: Black
Edge Type: Plain
Color: Black
Bottom Line
The Gerber Ghoststrike Fixed Blade Boot Knife is an excellent tool that is hard to fault. The way the knife has been designed and built makes it a worthwhile choice for ultralight hikers and survivalists, right up to the demands of tactical law enforcement and the military.If you are looking for a strong, well concealed carry self defence knife at a good price, the Gerber is the one for you.
---
5. The Colt Boot Knife
The Colt Boot Knife is another good looking tool that performs well in the mid-budget region, (we class mid-budget as $50 – $100).As you can see from the images, the Colt boot knife features a rather lovely brown Stacked leather handle with stainless guard and pommel. This feels very comfortable in the hand. The little dimple on the guard is also perfect for your thumb, aiding grip and giving greater control of the knife.The 420 stainless blade is strong and very sharp out of the box, (the knife is sharpened along both edges so should be handled with care).What lets this down, however, is the sheath. It seems the design and quality of the Colt boot knife have gone into just that – the knife. In comparison, the sheath is disappointing and does not look as if it has been built to last.Unfortunately, it seems like a bit of an afterthought, (which is a complete oversight when you consider that the buyer wants to conceal the knife on their person.)For this reason, the colt boot knife received our lowest score in our top 5 best boot knife review roundup, receiving only 4 stars. A real shame as it is a beautiful looking knife.
---
Bottom Line
The Colt is a quality boot knife that looks and feels fantastic. However, it is let down by a sloppy sheath. If you are willing to purchase a substitute harness, or do not wish to wear it as a boot knife, then this could still be a very good option for you.
---
How to wear a boot knife
There are a few ways to wear a boot knife. How you wear your boot knife will often depend on the design of your boot rig.As you will have seen from our reviews above, most boot knives come with a leather sheath that includes built-in straps. These are easy to fasten into place, making the whole process simple and intuitive.Beyond the scope of this article is the fact that some brands of cowboy and combat boots come with a built-in pocket meant specifically for a boot knife.
Image Credit: Reddit.com
Wearing a Boot Knife – Step by Step Mounting Guide
With your boots on, slide your knife, with leather sheath, into one boot.
The knife should ride on the outside of the boot on the strong side of your body. (i.e, if you are right-handed you should choose to wear the knife on the outside of your right boot.)
You want only half-inch of sheath sticking above the boot top, so adjust the knife accordingly.
Now, using a piece of string or shoelace, attach the exposed sheath to your calf. The center of the string should be placed on the flat edge of the exposed sheath.
Then carefully wrap the string twice around the sheath, then twice around your calf.
Tie it firmly in place.
[Want to go a step further and make your own neck knife? Read our instructional guide here.]
---
A Warning When Carrying A Boot Knife
You should always check local laws about concealed weapons and carry-legal knives when deciding to wear a boot knife. Many boot knives are actually illegal, as they may be considered too long or if they have a dual-sided blade.
Also, be careful that your boot rig does not amount to being classed as a concealed weapon. The law does not take kindly to the presence of concealed knives. You would not want to get arrested for misunderstanding the terms of what is and what isn't allowed when carrying a boot knife.
An alternative to carrying a boot knife is a small fixed blade neck knife, (find out more here). However, laws do still apply as this will be classed as a concealed weapon.
---
Image Credits
:
iknifecollector.com
,
ZT Knives
,
Reddit.com
,
Pixabay.com
Further reading: