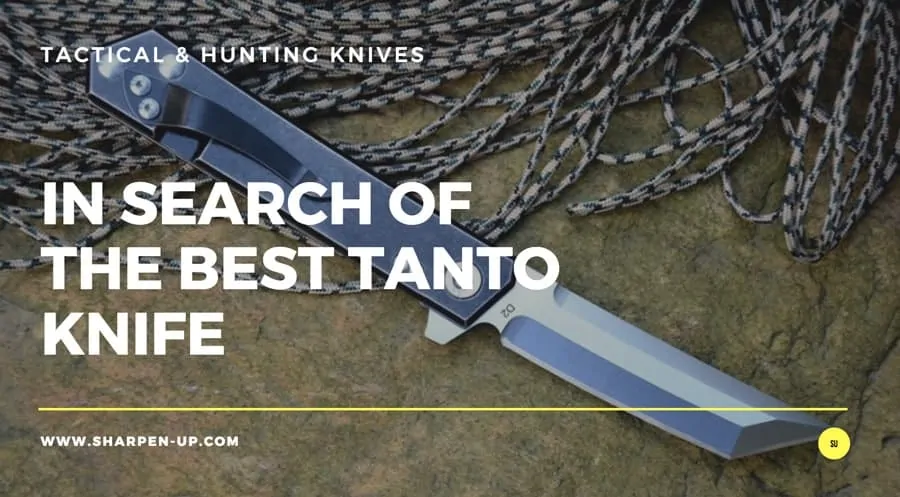 Looking for the best tanto knife in 2018? Well you've come to the right place. We've reviewed 10 excellent blades, to give you the full lowdown on what's available right now.
The 2 tables below show are top picks in both the premium and budget range categories. For full in depth reviews of each knife, plus a short buyer's guide keep on reading.
---
Best Tanto Knife – Top 5 Premium Picks
PRODUCT
FEATURES

TOP PICK

1. Matte Purple Titanium Deep Pocket Clip For Kershaw

Overall: 8.25″
Blade: 3.50″
Steel: CPM-S35VN
Powder Stainless

Check Price

RUNNER UP

2. CRKT Minimalist Tanto Neck Knife

Overall: 9.75″
Blade: 5.12″
Steel: RWL-34

Check Price
3. Chris Reeve Professional Soldier Flat Dark Earth Tanto Knife

Overall: 7.25″
Blade: 3.5″
Steel: CPM-S35VN
Powder Stainless

Check Price
4. Cold Steel Golden Eye Tanto Point Green G10 S35VN 62QFGT

Overall: 8.375″
Blade: 3.50″
Steel: CPM-S35VN
Powder Stainless

Check Price
5. Guardian Tactical Helix Nano Tanto

Overall: 7.62″
Blade: 3.25″
Steel: CPM-154
Powder Stainless

Check Price
---
Tanto Knife – Top 5 Budget Selection
PRODUCT
FEATURES

TOP PICK

1. Ka-Bar 2-1245-1 Black Tanto Knife

Blade: 8″
Steel: 1095 Cro-Van
Handle: Kraton G

Check Price

RUNNER UP

2. Cold Steel Leatherneck Tanto D2 Fixed Blade Knife

Handle: 5″
Steel: German D2

Check Price
3. Kershaw 1990 Brawler Speedsafe Folding Knife

Blade: 3″
Overall: 7.1″
Steel: 8Cr13MoV,

Check Price
4. United Cutlery UC2629 Honshu Tanto Knife with Sheath

Overall: 16-3/4″
Blade:10-3/4″
Steel: 440
stainless

Check Price
5. Cold Steel 80PGTK GI Tanto 7″

Handle: 5″
Overall: 12″
Steel: 1055
High Carbon

Check Price
---
Tanto Hunting Knife Buyer's Guide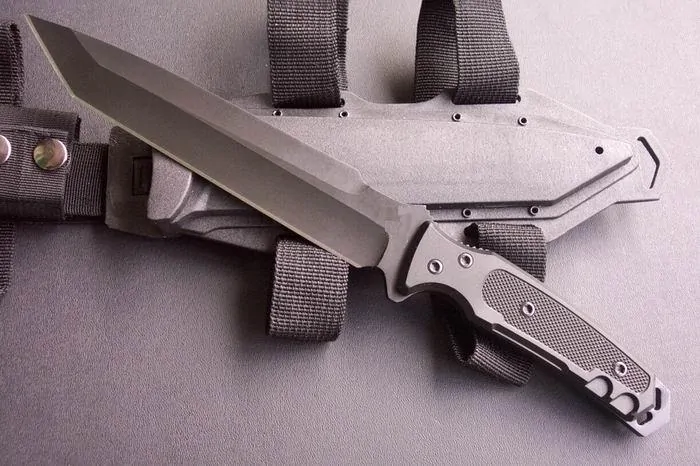 The Tanto knife is a great tool for the outdoorsman. In fact many users opt for the Tanto as a reliable survival knife. Strong and sturdy, with that robust chisel tip the design stems from the famous Japanese tanto sword. In other words – it is a knife that means business.
Let's take a closer look…
So what is a Tanto Knife?
The american tanto blade was first made popular after Cold Steel incorporated the design in to one of their field knives.
As we mentioned above, the Tanto actually originates from Japan. The American version follows the same style by incorporating two separate blade edges and an angular tip.
This tip gives the blade a secondary point and makes for an excellent stabbing weapon. It is also designed to endure high impacts, whether that be the flesh of freshly caught big game, or hard metal objects in a survival situation.
Benefits of using a Tanto for survival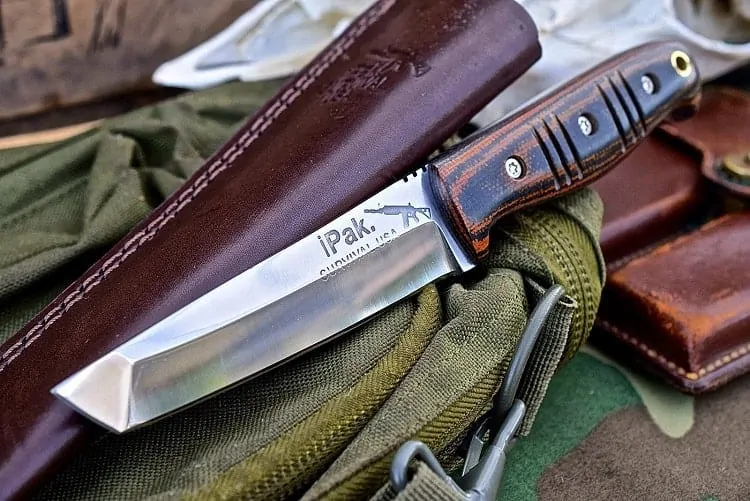 As we have mentioned, the strength and durability of the tanto knife is one of the main reasons it makes for a good survival tool.
Furthermore, the dual edge blade makes for a chisel-like end to the knife. This unique blade point is perfect for prying or scraping, and other more mundane tasks you may need to carry out in survival.
Tanto knives also work well for making camp; jobs such as hacking saplings or chiseling wood are made easy with this extremely versatile blade.
And while it is not the best style of knife for gutting game, (the gut hook zipper blade is the one that takes that accolade), its strength and high penetration tip make it useful in this regard.
Another benefit from the survivalist perspective is the straight edge blade. This is nice and easy to sharpen while out in the field.
Finally the tanto knife is for good self-defence. Whether you're facing man or beast while out in the wild, you can be assured of doing some sweet damage should you need to use the knife on someone or thing.
---
Best Tanto Knife – Premium Reviews
First we will take a look at the knives that made our premium pick list. Many of these are designed by craftsman respected within the industry. Sure, the initial outlay is greater for a custom knife however the benefits that stem from owning one (and the pride you will have every time you use it), certainly make up for it.
Let's take a more in depth look with our best premium tanto knife reviews…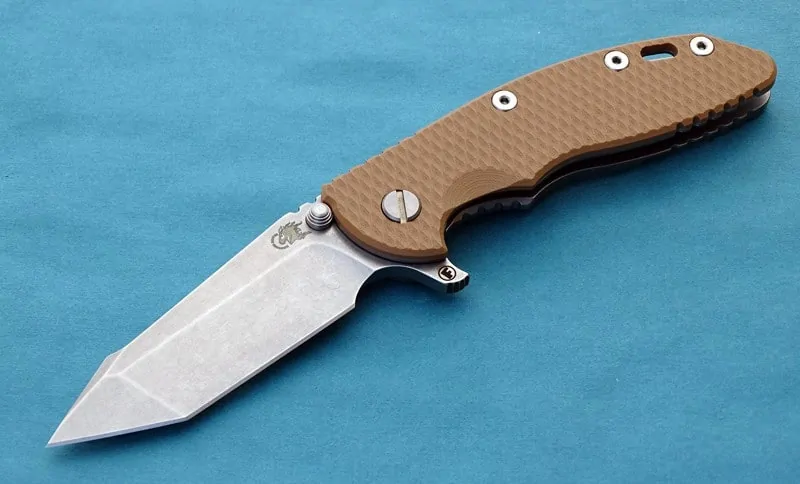 Our number one premium pick is the Hinderer Knives XM-18 3.5″ Fatty Harpoon Tanto Knife.
This elegant tool from the ever reliable Rick Hinderer, features a sleek Coyote brown 3D textured G10 handle, and is designed for hard-wearing use while out in the field.
This crafted hard-use tactical folder is very similar to the XM-18, however the main difference can be deduced by the name.
Hinderer Knives have called this the Fatty version due to the extra sturdy blade that comes in at 0.185″ thick and 3.5 inches long.
The blade features a bead-blast/stonewashed finish (which simply looks fantastic). You have a choice on which mechanism to use to open the knife; opt for the integral flipper or instead utilise the dual thumb studs/blade stops.
Rick Hinderers' own 17-4PH state-of-the-art pivot system is all well and present of course. You can be assured of a high performing, smooth operation every time.
To counter the fact the knife blade is more heavy duty on this Fatty version, the handle thickness and weight has also been beefed up.
Rick has opted for 3D texturing on the G-10 scale; the knife also features jimping to offer that sturdy grip a user of such a tool demands.
The full titanium frame lock and liner utilizes Hinderer's darkest, worn-in appearance, which only adds to the overall aesthetic of toughness and durability.
The design also incorporates a choil to choke up on the blade which is beneficial when conducting on more detailed cutting tasks
The knife features the Hinderer Lockbar Stabilizer and two-position titanium clip. Whether you wish to carry the knife tip up or down right you are all set.
Bottom Line
Overall the Hinderer Knives XM-18 3.5″ Coyote Fatty Harpoon Tanto Knife is a sturdy, well built and stylish tactical tanto. The high performing release mechanism, handle design and comfort and that extra thick blade make this one tool you will want in a survival situation.
---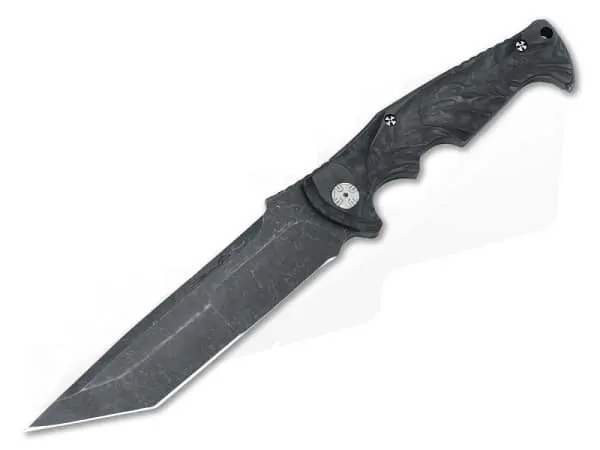 Coming in a close second in our top 5 best tanto knife premium picks is the Brian Tighe Custom Tighe Breaker Fixed Blade Tanto.
Opting for the fixed blade design, this knife is clearly more influenced by the ancient Japanese Tanto style when compared in other offering in our list.
Ideally used as a modern tactical knife, the aggressive blade profile really means business on this custom Brian Tighe.
Composed of a full tang of RWL-34 stainless steel, the blade features a compound grind and slight thumb ramp. Razor sharp straight from the workshop of course, field action such as slicing and piercing can all be carried out with maximum efficiency.
The steel has received an acid wash finish in order to be non-reflective, (another key aspect for tactical use). A built in ramp offers subdued jimping for additional purchase.
The handle design is lightweight and slim and features a very appealing marbled carbon fiber aesthetic. Not only does this looks great, but it also feels super comfortable in the hand.
Attached via custom Tighe hardware, the carbon fiber has been expertly milled and finished for added grip while maintaining an ergonomic level of comfort and balance.
The included fitted kydex sheath with belt loop takes care of all your everyday carry needs.
Bottom Line
If you're after a fixed blade tanto that balances tough tactical performance with lightweight design and comfort, the Brian Tighe Custom Tighe Breaker 5″ Tanto Knife could well be the tool for you. Sharp, stylish and functional this one comes highly recommended.
---
If you're after a no frills, heavy duty fixed blade tanto this offering from Chris Reeve may well fit the bill.
This quick access, no-nonsense fixed blade tool was actually created at the request of professionalsoldiers.com.
Put simply, experts in the field (the website is a forum for active duty and retired Special Forces soldiers) came together to provide their insider knowledge on what a good tactical tanto needs to deliver.
The result of course, is this knife.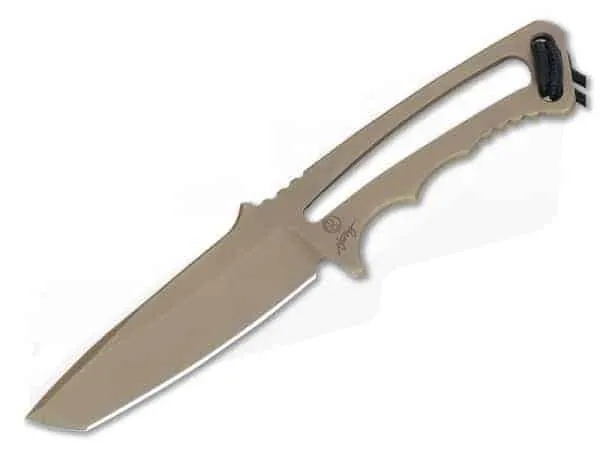 Excellent design features such as easy attachment to a MOLLE vest, or safe and reliable neck knife versatility, make this an exceptionally efficient everyday carry.
The American tanto-style blade also holds up to the demands of special forces use. The straight edge and chisel tanto tip are all directed to maximum penetration.
The hollow ground premium CPM S35VN steel construction ships from Chris Reeve ultra sharp. The craftsman behind the build also provide a CRK polished edge. Design wise there is a slight upper swedge to help reinforce the tip.
Dimensions are good too. The blade comes in just shy of 3.5 inches in length, with the knife incorporating a humped thumb ramp and half an inch of jimping for control.
Superior edge retention and ease of sharpening are also to variables the designers have ensured are carried through to the finished knife – exactly what a soldier needs.
Handle size is good at 3.75 inches. The jimping near the back third finger groove means even a gloved hand should be able to operate the knife with ease.
The skeletonization of the build helps reduce overall weight. This design also gives room for personal paracord wrapping and other customisation.
The knife also features a Flat Dark Earth PVD coating finish for extra strength and longevity. A Universal Kydex sheath by Blade Tech is provided.
Bottom Line
Designed with after a close dialogue with special forces personnel, it is difficult to overstate just how suited the Chris Reeve Professional Soldier Flat Dark Earth Tanto knife is to the demands of field work.
If you're after a survival fixed blade tanto work horse, (without the frills) then look no further; this is tool for you.
---
Cold Steel make an appearance twice in our top 5 budget tanto list, and it make sense that they should have a product worthy of our premium list too. The fact is Cold Steel were one of the first mainstream knife manufacturer to take the Japanese tanto design and bring it to USA made tools.
For the Golden Eye every day carry folder Cold Steel worked alongside designer Andrew Demko; the result being this beautiful yet practical tactical tanto.
Premium quality generally comes hand in hand with custom crafted techniques. This certainly applies here; the hand-honed S35VN blade steel combined with the medium-textured forest green G10 really do look the part.
Mr. Demko is no stranger to what makes a superior EDC. Opting for a 3.5 inch blade American Tanto design, features such as the line-grain two-toned satin polish finish raise this above the competition in regards to aesthetics.
Functionality is important too of course, and by utilising a brass HTR thumb ramp opening mechanism the operator can be assured of a smooth ambidextrous blade deployment whenever it is needed.
The lock up is nice and solid, courtesy of Cold Steel's well respected Tri-Ad locking mechanism.
The pleasing look of the knife extends to the handle, with the rich forest Green G10 scales complementing the brass accents of the Golden Eye perfectly.
The ergonomics are good too, with several finger grooves to provide comfortable forward or reverse grip suitable for both left and right handed use.
Bottom Line
This superior tactical tanto folder from Cold Steel is a great tool for those that what their knife to look good, while being nice and functional to boot. While it not have the heavy-duty appeal of the likes of the Chris Reeve or Brian Tighe, it still holds up as a convenient EDC. Highly recommended.
---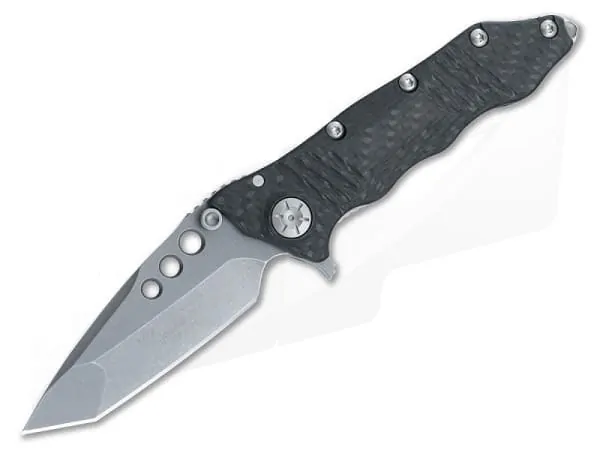 The final knife in our top 5 premium tanto blade round up is the Guardian Tactical Helix Nano.
Featuring a CNC milled blade made from CPM-154 stainless steel, this robust tool has a three-hole cutout across the top in an attempt to make the knife more lightweight.
For alternative deployment the knife utilises a dual thumb stud. Smooth flipping action is achieved thanks to a sealed, self-lubricating 16 ball bearing system.
Each knife leaves the shop hand-sharpened by Guardian expert craftsmen.
The handle maintains this overall level of quality; two thick pieces of machined carbon fiber are attached either side of the knife. A nested stainless lock bar, with replaceable lock face is placed on one of the sides.
Torx screws hold the construction together, complete with a large titanium backspacer and lanyard hole.
Tip up right handed carry is achieved via a serialized steel clip.
Bottom Line
While the Guardian Tactical Helix Nano Tanto doesn't look as exciting as the Cold Steel, it is still a smooth folder worthy of your consideration. A good all round American tanto that won't disappoint.
---
Tanto Knife – Top 5 Budget Reviews
Due to the knife's broad market, many companies have now delved into their production. That simply means many brands now exist in the marked spoiling choice for those looking for the best Tanto knife to purchase.
We have researched several of the currently available brands and come up with a descriptive list of the 5 excellent budget Tanto knives that offer value for money in 2018.
In case you are looking for a high quality Tanto knife to buy, then you will do well by choosing Ka-Bar 2-1245-1. It is a combat knife designed with heavy Asian influence giving the nostalgia and the reality of the relic Japanese technology.
The combat knife features a blade that is thick with pointed end to maximize penetration. It can easily penetrate a number of objects including combat armors with zero chance of breaking.
The super sleek design of the knife is only dwarfed by the its scary sharp blade sharpened to between 17 and 20 degrees.
The handle is made of Kraton G while the blade is made of 1095 Cro-Van. Kraton G is an advanced synthetic rubber and it is textured, grooved and shaped for firm and comfortable grip.
These are some of the strongest materials making this combat knife extremely durable. In fact, the knife is quality tested to ensure it has maximum durability.
It also comes with a comfortable and ergonomic Kydex, nylon filled glass sheath made in Taiwan. Ka-Bar 2-1245-1 Tanto Knife package also includes a cross-guard snap for easy carriage.
The blade also has a serrated portion (2" out of the 8" total length of the blade). The serration improves the cutting ability of the knife and therefore the diversity of the applications you can use it for.
There is confusion as to whether 2-1245-1 is a full tang or something else. Actually, it is a modified partial tang referred to by experts as rat-tail tang.
In this case, the manufacturer processed the tang into the pommel. This widens the end of the pommel making securer to hold. This gives the knife better balance.
Pros of Ka-Bar 2-1245-1 Black Tanto Knife
The knife is of high quality and designed to be durable
Very sharp and made of strong materials with pointed tip for maximum penetration
The handle is designed for comfort safety and firm grip
It has many diverse uses including combat, hunting, prying and self-defense
It is made in the USA and therefore minimal legal problems
Cons
The sheath seems to be of low quality, it leaves behind ugly scratches on the knife
Bottom Line
Ka-Bar 2-1245-1 Black Tanto Knife is a very high-quality combat knife that has all the features you need in a Tanto knife.
From the design to blade to handle and to performance, the knife is designed with the toughest people in mind. Although there is a bit of a problem with the sheath, it does not dent the quality of the bleed.
---
2. Cold Steel Leatherneck Tanto D2 Fixed Blade Knife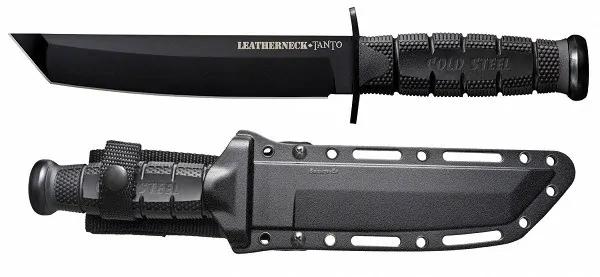 High on the list of best Tanto Knives in 2018 is the Leatherneck Tanto D2 Fixed Blade Knife by Cold Steel. This fully featured Knife is tough and combat-ready. It boasts of distinct, iconic blade design, which is favored by those in the armed forces.
The designation leatherneck is derived from the 18 century directive by the congress that compelled all the marines to wear stock' (a thick, high leather collar) to protect their necks from blows, swords, and cutlass, and keep their heads up.
The leatherneck gives a similar impression. For strength and durability, the knife features a classic blade with a stout augmented tip for optimal strength, longevity, and durability.
Unlike the Ka-Bar 2-1245-1, the blade is made of German D2 Tool Steel finished with a scratch resistant, reflective diamond-like coating giving it a nice look. German D2 does not match 1095 Cro-Van but it is also very strong anyway.
Solid steel guards made of thick steel with two fold quillons slightly turned forwards protect your hands against sliding into the keen edge of the blade.
It also features deeply checkered Kray-Ex handles that fully surround the full, wide tang of the Leatherneck. These handles provide unmatched grip power via their unique finger trough and oval cross section that seems to hug the palm of the handler.
To complete a wonderful design, the handle comes with a thick butt cap made of machined steel. The cap is able to deliver a frightful blow but it can also be used as a hammer in case of emergency.
The knife comes with a versatile and sturdy sheath with ambidextrous and detachable belt-loop to enable you to carry it safely in all environments.
Leatherneck sheath is of higher quality compared to that of Ka-Bar 2-1245-1.
Pros of Cold Steel Leatherneck Tanto D2 Fixed Blade Knife
The knife is made of strong and durable materials
If features a nice, military grade designed lovable by many
The handle is extremely comfortable and ergonomic
It is well sharpened and designed to penetrate hard materials
Leatherneck is easy to handle, use and carry thanks to its sturdy sheath
The Cons
Although the handle provides firm grip, the material used to construct it is not strong
Bottom line
The Leatherneck Tanto D2 from Cold Steel is a great Tanto knife that can give you what you are looking for in such a knife. Although it does not match the Ka-Bar Tanto Knife reviewed here, it has some cool features too that make it an excellent choice for many people. You can check it out and compare it with others.
---
3. Kershaw 1990 Brawler SpeedSafe Folding Knife
Another reliable, great quality Tanto knife good for the money is Kershaw 1990 Brawler SpeedSafe. Unlike Cold Steel Leatherneck and Ka-Bar 2-1245-1, which are fixed blade knives, this is a folding knife. It is a highly versatile knife perfect for those looking for high-quality pocketknife, a special collector's edition or a hunting knife.
The knife features SpeedSafe Assisted Opening technology designed to enable you to deploy the SpeedSafe easily and rapidly with just a manual pull back on the flipper or slight push on the thumbstud.
The flipper can be used on both manual and assisted SpeedSafe Tanto knives. This means if one mechanism fails, the other is still available for you, or you just choose what works best for you.
Another innovative feature of Brawler is the four-position pocket clip. The clip allows you to position it for left- or right-handed, or tip-up or tip-down carry.
You will also like the liner lock technology, which locks the blade open during use. This is how the technology works; one side steel plate to which the handle scales are attached (referred to as the steel 'liner), locks into position behind the blade to lock it securely open.
Brawler's blade is made of steel with black oxide coating while the handle is made of the same material as that of Ka-Bar 2-1245-1 (glass -filled nylon).
This knife's blade is hybrid meaning it combines Brawler technology with Tanto. The blade is therefore modified Tanto.
This makes it punch through materials, a feature that is ideal in rescue and tactical operations. The top portion of the blade has a grind referred to as "Swedge". It narrows the blade promoting its piercing abilities.
Kershaw 1990 Brawler's handle is optimized for comfort, grip, and ergonomic handling. It also features angled design, which curves in the palm of your hand during use and as it jumps back on the blade, the handle offers further traction. You will only appreciate many more features if you buy this folding modified Tanto Knife.
Pros of Kershaw 1990 Brawler SpeedSafe Folding Knife
The knife is made of high-quality materials for strength and durability
Innovative SpeedSafe technology makes it easy and quick to open
It is highly versatile and flexible allowing you to use it for many applications
The blade is designed for optimal cutting capacity
It has liner lock technology making it very safe for use
The knife is very affordable
The Cons
The exposed edges of the knife feel a little bit rough then the knife is pocketed
The assisted opening works but it breaks too often
Bottom line
This is a very good choice if you are looking for a versatile folding knife with excellent cutting capacity and design. It is also a good choice of a modified Tanto knife if you are operating on a tight budget.
The assisted opening technology is great giving it some touch of professionalism. The Brawler is good for rescue and tactical operations.
---
4. United Cutlery UC2629 Honshu Full Tang Tanto Knife with Sheath
Are you searching for a Tanto knife that you do not have to carry with you every day but comes in handy in self-defense situations or hunting?
If your answer to the question is yes then you can try the Honshu UC2629 full tang Tanto blade by United Cutlery. The massive 10 3/4″ 440 blade made of strong and durable stainless steel is designed to take down an enemy or prey fast and clean.
The design is clean and simplistic but features technology that makes Honshu one of the best full tang Tanto knives. The design is massively different from Ka-Bar 2-1245-1, Cold Steel's Leatherneck and definitely Kershaw 1990 Brawler but performance is comparable.
It features a unique blood groove down both sides of its entire length. As the name sounds, the groove fills with frightening blood to give you the feeling of power over your target. The groove also increases the strength of the blade.
It feels awesome to carry in the hand because of its full size. For your comfort and grip, the knife comes with an oversized, over-molded rubber grip.
The handle also has stainless steel hand guard to prevent your hand from sliding forwards during use and you are cut in the process. The knife feels full in the hand and gives you a feeling of having control over the situation
The UC2629 Honshu Full Tang Tanto Knife comes with razor sharp blade but with care, you can use it to cut meets.
The package also comes with high-quality sheath made from 100 percent synthetic material. The sheath has a belt and a snap closure.
When it comes to design, this knife is simply elegant. It looks sleek and professional thanks to reflective stainless steel blade material.
Pros of the United Cutlery UC2629 Honshu Full Tang Tanto Knife
It is nicely designed with a unique blood groove along the entire length of the blade
It is fitted with over-molder grip made of high-quality rubber for firm grip
The knife comes with a razor sharp edge but if it gets blunt, you can sharpen with a diamond sharpener.
It is very affordable given its quality and performance
The knife has very good balance, and the grip is highly secure
Cons
It is not actually full tang as claimed because a small part is screwed on the glue-laded pommel
The pommel looks like it may break quickly and easily
Bottom line
UC2629 Honshu Tanto Knife is a relatively good choice for 2018. It is affordable, nicely built, feature strong materials and designed for diverse uses.
It may not be a full tang knife but it is large enough for those looking for massive, non-carry Tanto knives. You can use it for a variety of things but the knife is especially good for hunting and self-defense.
---
5. Cold Steel 80PGTK GI Tanto 7″ Carbon
Another Cold Steel Tanto knife that you will find great for your money this year is the 80PGTK GI 7″ Carbon. It is one of the best tactical, self-defense and hunting knives. It has many additional uses.
The knife is small and compact but it has what it takes to perform like or even better than competitors in its price category do. It features a broad (7-inch) pointed Tanto blade with an integrated quillon guard, and handle scales made of Polypropylene.
The knife's blade is made of strong and durable 1055 carbon steel. The edge is super sharp. A black, rust resistant finish as well as a hard spring temper protects the entire broad blade of this wonderful Tanto knife.
These features make the blade resistant to environmental influences such as harsh weather. 80PGTK GI 7″ Carbon comes with a Secure-Ex Sheath to protect you, the user and the knife itself from harm or damage, respectively.
The material for the sheath is hard plastic. To know that the knife is securely locked, the sheath produces and clicking sound.
The design of the sheath makes it possible to wear the knife on your belt. However, this sheath is not Modular Lightweight Load-carrying Equipment (MOLLE) compatible, which may not go down well with some people.
One funny feature about this GI that other brands and models reviewed here does not have is removable polypropylene scales.
For these reasons, the handle does not seem to grip firmly especially when your hands are wet. To counter this problem, Cold Steel recommends that you wear gloves when using the knife under wet conditions. This is quite unfortunate but it does not interfere with the performance of the knife.
Pros of Cold Steel 80PGTK GI Tanto 7″ Carbon
It is small and compact, great features for concealment
It is sharp, heavy and nicely balanced making it easy to use
The knife is easy to throw by either handle or blade and hits with a lot of vigor if you want to convert it to a spear.
Its broad Tanto blade is designed to penetrate tough materials
The knife's blade and handle are made of strong materials for durability
Cons
The bolts on the handle are kind of wobbly and easily come off in some of the GI knives (this seems to be an isolated problem)
It may be difficult to use under extreme weather conditions
Bottom Line
Cold Steel 80PGTK GI is a good choice of a Tanto knife if you want something lean and spare for your self-defense, hunting or other applications.
It features a nice design and performs really well. Its broad blade gives it the power to penetrate tough objects. It is also a great choice if you are looking for a good quality Tanto Knife at a reasonable price.
---
Image Credits: VozForums.com, KnifeStore.US, Youtube.com/user: Wickedshrapnel