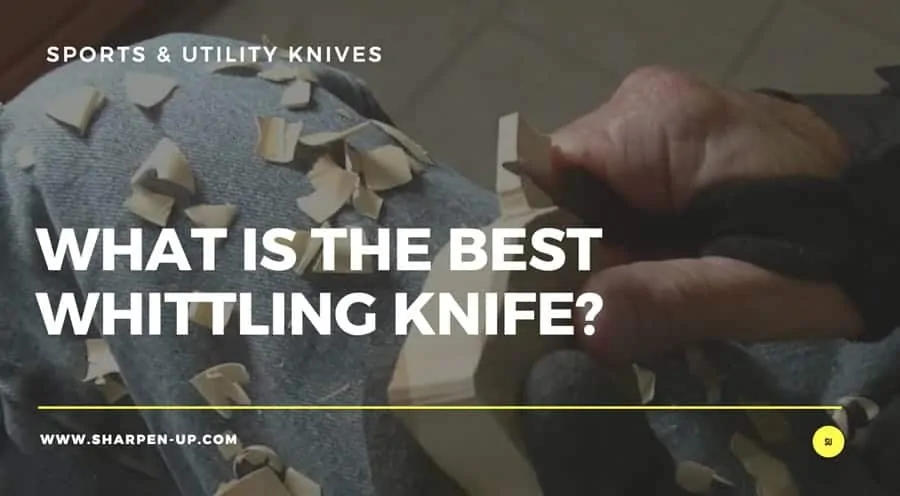 Whether you are a beginner whittler or a seasoned pro, you are going to need the right tools to properly enjoy your craft. That means owning the right knife. However, which is the best whittling knife you can buy in 2018?
As with any trade or hobby the market is flooded with products aiming to be your number one choice. These days many whittling knives come in pocket knife form and are designed for easy mass market appeal with sturdiness prioritised over quality.
Unfortunately, a lot of people at the beginning of their whittling journey end up disappointed. They purchase the wrong instruments and because they are using cheap whittling knives blame the poor work that they produce on their lack of ability.
Well we are here to stop all that. In true Sharpen-up form we have put our top 5 selected whittling knives front and centre in the table below. For more in depth information about whittling knives and full reviews of our picks – keep on reading.
---
Our top 5 selected whittling knives for 2018
---
PRODUCT
FEATURES

TOP PICK

1. Boker 115465 Carver's Congress Whittler Pocket Knife

Blades: sheepfoot
pen, coping, spey
Steel: 1095 Carbon
Closed Length: 3 3/4″

Check Price

RUNNER UP

2. Flexcut Whittlin Jack

Blades: Detail (1 1/2″)
Roughing (2″)
Closed length: 4″
Steel: High Carbon

Check Price
3. Hand Crafted Whittler Pocket Knife

Blade: 2 3/4″
Handle: 3 3/8″
Steel: High Carbon

Check Price
4. Flexcut Carvin' Jack, Right Hand

Blades: detail, straight
gouge, chisel, V scorp
gouge scorp, hook
Steel: High Carbon

Check Price
5. The Whittling Tool Wood Carving Pocket Knife

2″ Carving Blade
Handle: Manchurian
Ash Wooden Finish

Check Price
---
What to look for when buying a whittling knife
The bottom line is this – no matter your experience level as a whittler or wood carver, to do the job properly you need a good quality, well-shaped and SHARP knife.
The problem is, many whittling knife manufacturers compromise on various design factors in order to make their product reach a wider audience.
This can be simply down to producing a whittling pocket knife that is cheap to purchase and convenient to use. Granted, many people want this, but does it make it the right choice for whittling?
Or maybe they select steel that does not rust, but has less reliable edge retention; or softer steel that is easier to sharpen. You get the point. At the end of the day, when buying wood whittling tools, you need to understand these variables and choose the right one for you.
Let's break down what to look for when buying a whittling knife even further…
---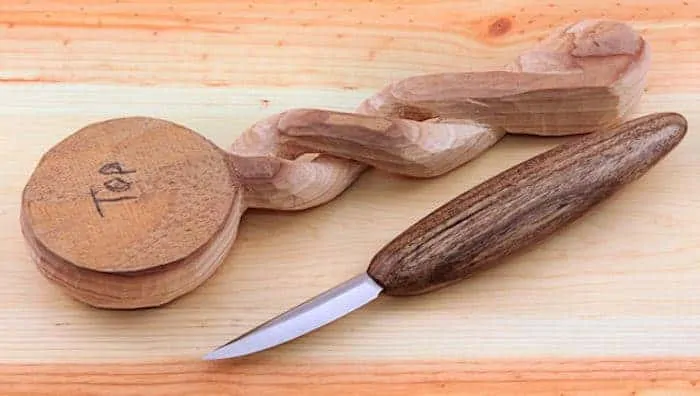 Image Credit: Avventurosamente.it
Types of Steel
The type of steel used and the way it is forged is clearly fundamental. It is the heart and soul of your whittling knife.
Most manufacturers will use standard stainless steels that are generally wear resistant rather than designed to hold a razor-sharp, high performance edge.
On the Rockwell C scale, the best steel hardness to look out for is between 58 and 62. Any lower than this (say between 52-56), the steel will be slightly too soft for you to obtain a razor sharp edge and importantly, retain it.
On the other end of the Rockwell C scale, your knife can be too hard and may not tolerate any prying. As a beginner whittler you may very quickly chip or even snap your knife.
Furthermore, in order to prevent them from snapping, super hard steel blades will often be laminated between softer steels. The trade off here is that when a knife is laminated in this way, the blade is thicker and more difficult to use for whittling.
On A Knife's Edge
The angle of your edge is also something to consider, especially if you plan on sharpening your whittling pocket knife yourself.
Some whittling knives come with a factory edge of between 22-25 degrees per side. When you add that up, you are getting 44-50 degrees – which is far too high in our opinion.
A good sharpening angle to aim for is between 15 degrees and 17 degrees. This will allow for finer detailed whittling.
Again there is a trade off with keen edges like these; the blade will need to be made from high quality steel otherwise the edges will be constantly dulling down.
---
Enter your text here…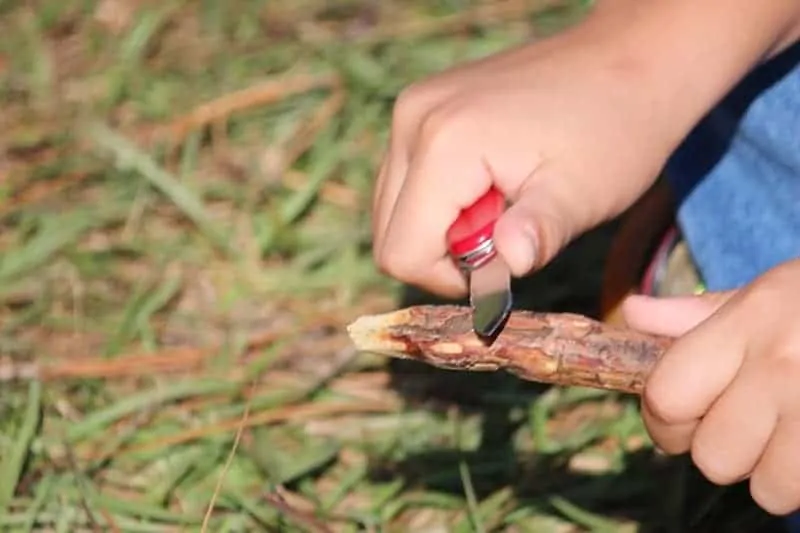 Image Credit: Pixabay.com
Shape & Size Do Matter
The correct shape and size to look out for when buying a pocket knife for whittling can be described as:
Narrow from top to bottom in order to allow precision control in concave areas. Anything over 15mm gets in the way.
Avoid knives with a hilt or blade guard – these simply get in the way and are not needed for carving or whittling.
A relatively long thin blade without too much "belly" (the rounded bit of the edge toward the point) will help you create better cuts.

​

​
---
Get a handle on it
Wood whittling and carving requires superior knife control. Therefore the material and design of your handle is very important.
First and foremost when buying wood whittling tools, look for a knife that fits your hand. Also bear in mind (especially when buying online) that a large handle will fit both large and small hands, where as the opposite is not true.
If you are buying a folding whittling pocket knife, make sure it either locks or has a solid snap. The last thing you want when working with your wood is for your knife to feel flimsy or loose.
From an aesthetic point of view, a nice smooth wood handle will always look good, last a long time and feel nice in the hand. Mind you, this is down to preference and a steel or plastic handle may be your preferred choice.
---
Whittling knife 2018 review roundup
1. TOP PICK: Boker Carver's Congress Whittler Pocket Knife
The Boker Carver's Congress Whittler Pocket Knife gets our number 1 choice as it is simply a fantastic hobbyists' whittling knife.
The carbon steel blades provided come in 4 different varieties:
Wharncliffe
Pen
Coping
Spey blades.
The Wharncliffe is an excellent blade for slicing, the pen is great for digging out wood, and the spey blade is exactly what you need for scooping.
Put together and you have an all in one whittling knife that is perfect for beginners, right up to experienced folk that wish to carve out complex and intricate designs while in the field.
The robust design ensures that each blade is fixed firmly in place as you work. Supported by a strong backspring, the knives are easy to open and close and hold firm during even the most forceful of tasks.
The quality of the steel is also excellent. Boker knives are manufactured in Solingen, Germany – one of the most respected regions for metal forging in the world.
The 1095 carbon steel will hold a razor's edge far longer than any of the cheaper offerings we have profiled in our top 5.
At the same time, strength has by no means been compromised. This knife will withstand the torque and pressure that any level of whittling involves.
What we love about the Boker Carver's Congress Whittler
The build quality – fit and finish is superb, all blades pop in and out with ease with no rubbing.
The choice of blades is excellent for whittling
High quality German made, 1095 carbon steel – super sharp and holds its edge.
Beautifully designed classic wood handle
The not so good points
We hate not being able to find fault when reviewing products on Sharpen-up. Our aim is to be as clear and unbiased as possible. However, in this instance there is nothing we can fault. In our opinion this is the best whittling pocket knife you can buy.
---
Bottom Line
Boker have been manufactory knives for over 145 years. The Carver's Congress Whittler Pocket Knife is exactly what you would expect from a company of this caliber. This is a top of the line, superior quality knife. It is well balanced, fits easily in the hand and is a dream to use. The four distinct blades offer excellent versatility for the beginner or experienced woodworker.
Whether you are looking for your first whittling knife or are a seasoned pro after a replacement – the Boker is the one to go for.
---
2. Flexcut Whittlin Jack
The Flexcut Whittlin Jack pocket knife came in a close second in our top 5 whittling knife roundup. We'll get to why in a second, let's first look at what you are getting for your money with the Flexcut.
Like the Boker, high quality steel has been used. The 2 blades (one for detail work at 1-1/2″ long, and the other for rough work, 2″ long) are forged from lightweight stainless steel and are very sharp out of the box.
Edge retention is very good too. Most user reviews comment that they have not had to sharpen their Flexcut Whittlin Jack after several years of use.
However, on the subject of sharpening a whittling knife, it is always good to pay heed to the manufacturers recommendations.
In this case it is advised that the knife be maintained using a Flexcut Strop. By periodically stropping the blade using the polishing compound, you can ensure that the knife will maintain its high level of performance for a very long time.
What we loved about the Flexcut Whittlin Jack
The knife is very comfortable to use, is well balanced and is a good size.
The high quality stainless steel blades are extremely sharp and can hold their edge.
The knife is large and strong enough to do some serious carving, however with a closed length of just over 4″, it is also conveniently enough sized to accompany you to the woods or down the beach or wherever you like to whittle.
The not so good points
​

​

We found the thumb notch and groove to be on the small size and if you have large hands, it can be awkward to open up the knife.
The fact there are only 2 blades, mean that this just isn't as versatile as the Boker. At very similar prices it is difficult not to compare the two against each other.

​

​

​

​
---
Bottom Line
A very nicely crafted whittling knife with two excellent blades. If you want something portable and convenient to use out in the field, while still being large enough for more serious carving, this could be the knife for you.
However, when pitted against the Boker, this knife doesn't quite reach the same heights as regards to value for money and overall quality.
---
3. Hand Crafted Whittler Pocket Knife
The Hand Crafted Whittler Pocket Knife is the first of the low budget offerings in our top 5 list.
And to get straight to the point, this is arguably the best whittling knife for beginners. And when we say beginners, we actually mean young adults having a go at wood carving for the first time.
The low price point and its diminutive size, (this really is a very small knife with only one blade) make it a perfect introductory knife as a gift to encourage a teenager to get outside and start carving some wood rather than sit in front of their computer all day.
Safety issues are obviously a concern however, while the 2 3/4″ blade is sharp, it is also sturdy enough to ensure that minimum force is required for effective whittling.
With all of this said, the hand crafted whittler is obviously designed first and foremost for adult use, and being the size that it is, the knife is very portable indeed.
What we loved about the Hand Crafted Whittler
Very good value for money
Excellent introductory whittler knife
Sharp and sturdy
Nice looking wood design

​

​
The not so good points
The fact it is cheap is evident in the overall build quality
The handle size is small (3 3/8″ long)
The lower quality steel does not hold its edge for particularly long

​

​
---
Bottom Line
This is an excellent beginners whittling knife. You really can't go wrong with this – just don't expect the same quality as the other more premium knives reviewed here.
---
4. Flexcut Carvin' Jack, Right Hand
This knife is for serious carvers that wish to have a robust pocket knife solution that is convenient to carry around.
The impressive selection of six knives contained within the knife include:
1 x 3/4″ #7 sweep knife blade
3/8″ #6 scorp
3/8″ #11 gouge
3/8″ #1 straight chisel
1-3/8″ detail carving knife
1/4″ 70 V scorp
Each of the tools securely locks in both opened and closed positions.
Considering all that is packed into this beast, the Flexcut Carvin Jack is surprisingly small. Total measurements come in at only 4-1/4″ long, 15/16″ tall and 5/8″ thick when fully closed. This really is an impressive piece of kit designed specifically for whittling and carving on the go.
But what about the overall blade quality?
In short, professional carvers will be happy. The high carbon steel used provides an incredibly sharp edge out of the box. The metal really does flex too, allowing for greater strength and control. Each of the blades is very responsive.
What we loved about the Flexcut Carvin' Jack
6 awesome tools in one – this is basically a portable carving kit
The quality super sharp yet flexible carbon stainless steel
Everything packs down to a very convenient size
An extremely well put together whittling knife
The not so good points
Not cheap – at the time of writing the list price is around $120 (however this is obviously a lower cost than buying each of the tools individually)
The thumbnail slots for the tools are quite small – large handed operators could find accessing the blades quickly a bit of a problem
---
Bottom Line
Most serious carvers will have specialized tools in a workshop of sorts. Where the Flexcut comes into its own is that for those that do not want to carry such tools around, they have a mighty good substitute with this all in one solution.
If you are looking for a portable, convenient, carving tool that can perform incredibly well while out in the field, than this is the tool for you.
---
5. The Whittling Tool Wood Carving Pocket Knife
Another low budget whittling knife that is ideal for beginners that want to test the waters without breaking the bank.
This small whittling tool features a 2" carving blade, and is designed as a convenient foldable. The quality of the steel isn't the best, however it does come sharp enough out of the box and is relatively easy to hone and sharpen when the edge inevitably becomes dull.
There's some nice aesthetic touches with this one that help raise it above the other cheap whittling knife options available.
One of which is the design of the handle. Featuring a multi-coloured laminated wood effect, it gives the tool a quality finish beyond that of its similar priced peers. Bronze rivets hold the handle to the tang, in a way that feels well balanced and robust.
The blade action folds into the handle without fuss, and fixes firmly in place when in use.
---
Bottom Line
Low priced, looks good and is easy to operate – this is another great choice of wood carving tools beginner.
It is on the small size but some will find it really good to use for intricate detailed work. The steel used is not of the best quality so expect to spend time sharpening this tool between use.
---
Image Credits: Youtube.com/user: Gene Messer, Avventurosamente.it