Last Updated on 31st August 2020
The dovetail joint is a time-honoured favorite due to its strength and aesthetic elegance.
​However, it is not a particularly easy joint to cut by hand.
For this reason, the dovetail jig has become a popular go-to tool for the many woodworkers.
Using one of these handy tools it is quite possible to create tails and pins with speed and accuracy.
But which is the best dovetail jig to buy? There are of course a wide range available. To narrow down the search we have pitted together 5 top-rated dovetail jigs.
​For our findings at a glance just head to the table below. For an in-depth review of each of our picks, plus a dedicated buyer's guide, keep on reading.
---
Best Dovetail Jig – Top 5 Picks
| Product | Name | Details | Latest Price |
| --- | --- | --- | --- |
| TOP PICK | PORTER-CABLE 4216Dovetail jig(With MiniTemplate Kit) | 12″ Dovetail JigCapacity: 1/4″to 1-1/8″ Stock(Includes 3Templates) | CHECK PRICE |
| RUNNER UP | Leigh Super12″ Dovetail Jig | 12″ Dovetail Jig(Includes 3 routerbits.) Adjustable1pc fingers | CHECK PRICE |
| | Woodstock D279612″ Dovetail Jigwith AluminumTemplate | 12″ Dovetail JigCapacity: 1/2″ to1-1/4″ StockMakes 1/2″ half-blind dovetails | CHECK PRICE |
| | MLCS 6406Pins and TailsHalf Blind Dovetail Jig | 12″ Dovetail JigCapacity: 1/2″ to 1″(Drawer Sides)5/8″ to 1″ (DrawerFronts | CHECK PRICE |
| | Keller'sDovetail System | 15' phenolic templateUnlimited lengths and widths of woodSturdy and lasting constructionBack-to-back layout to save spaceManual & DVD | CHECK PRICE |
Best Dovetail Jig Reviews
Image Credit: HarborFreight.com
Ask any professional woodworker and they'll tell you that making a dovetail joint by hand is a very hard and time-consuming task.
Also, if you decide to go the manual route, there are many markings and calculations that should be made so the cuts align in the right way.
However, dovetails can be made in a matter of minutes and with minimal calculations once you own the right jig.
In this comprehensive dovetail jig review roundup, we take a closer look at some of the top dovetail jigs in the market today, along with the pros and cons that come with using these dovetail jigs.
Here are the top 5 best dovetail jig for the money.
The Porter Cable 4216 dovetail jig kit gets our number pick because of its wide range of applications. The tool allows you to easily cut a variety of joints using the included templates, it really is a versatile little beast.Here's an example of what you can achieve using the included items;
One template allows for the cutting of half-blind, sliding and rabbeted half-blind dovetails.
Another template provides guidance for creating box joints and through dovetails,
The 3rd included template is specifically designed for miniature through, miniature half-blind dovetail as well as the miniature box joints.
Should you want more than this you can also select to purchase the Porter-Cable dovetail jig with 9 included templates.
This basically covers all your dovetail joinery needs.
Whichever option you choose, the main unit is capable of accommodating stock from 1/4 up to 1-1/8-inch thick.
The jig comes with heavy-duty cam clamps that incorporate sandpaper-backed locking bars.
An end result is a tool that provides the all-important firm grip on the work material, (see the buyer's guide as to why this is important).
Image Credit: Instructables.com
The on-board instructions also provide clear user guidance for the many applications the jig has to offer.
In addition, the machined aluminum templates provided with the Porter-Cable are built to exacting standards; long-term durability and superior cutting accuracy are the end result.
Another worthy feature comes from the fact the router bit depth gauge has the ability to set the bit depths without the need for taking measurements.
This certainly helps achieve faster results.
Build quality is given another boost due to the manufacturer's decision to opt for a durable, single-piece steel base design.
This can be bolted or clamped to your workbench for that all-important stability when making the cuts.
Another great benefit of this dovetail jig from Porter-Cable is the fact it is backed by a 3-year limited warranty.
This covers any defects that might arise due to faulty materials or even workmanship (right from the purchase date).
The machine is also covered by the Porter-Cable's 1-year free service contract.
This sees Porter-Cable replacing worn parts that are caused by normal use, at no extra cost.
Porter-Cable 4216 dovetail jig comes with combination kit that includes; 3 templates (4215, 4211 and 4213); 4 router bits (43777PC, 43776PC, 43743PC, and 43014PC); 4 template guides (42054, 42037, 42040 and 42046); 2 lock nuts, wrench, and the operating instructions.
Pros of the PORTER-CABLE 4216 Super Jig – Dovetail jig
Porter-Cable 4216 dovetail jig is easy to use
The machine is powerful
It's also lightweight thus making it easy to carry around
It offers great value for your money
The Cons
It is more expensive when compared to other models on the market, however the sheer versatility and all those included templates more than make up for it.
Bottom-line
To sum it up, the Porter-Cable 4216 dovetail jig a great all-round product.
The quality build, firm grip and added templates (not forgetting the 3-year limited warranty and 1-year free service) makes this the dovetail jig to buy.
---
2. Leigh Super 12″ Dovetail Jig
The Leigh Super jig provides quality joint making all in one package. This is another tool that offers great versatility as well as precision joint making.
Half-blind joints can easily be achieved on the Super Jig. With this too,l you get the ingenious design element of adaptable 1-piece fingers.
These make it possible to create a template for all joint patterns, irrespective of the board width.
The fence fits very well on the dovetail finger assembly, resulting in fast and simple sliding dovetail template configurations.
You can rout half-blind pins as well using the incorporated 2 -function spacer so as to offset the tailboard.
Operation is all about speed too, with the jig offering the user 1 pass joint making.
Just choose one of the 5 half-blind bits that are available and then rout half-blind joints in a depth that suits your project.
The Leigh really does have a lot of versatility when it comes to joint making.
The finger assembly has the ability to produce 2 sizes of joints, 5/16″ as well as 5/8″.
The superior joint making ability of the Leigh super jig is helped considerably via the addition of the new Leigh E-bush.
Clear-cut adjustments for a perfect fit can be easily made using the E-bush.
Settings can be changed using the incorporated pin wrench, while the locking nut makes tightening the system nice and simple.
Clear Markings show the modification directions that are necessary for the anticipated change.
If the E-bush twists, it alters its active diameter; the diameter, in turn, alters the fit of the finger joints as well as the half-blind dovetails.
​The unit comes complete with cam action as well as aluminum clamp bars.
These are easy to use and hold the workpiece securely via the non-slip material that's been applied to the clamping surface.
The product Includes 1/2 " to eight-degree dovetail bit, 5/16″ straight bit, 1/2″-14 degree dovetail bit, 1/2″ – 8milimeter collet reducer, E-bush, sliding dovetail fence, half-blind bridge piece material, an illustrated user manual as well as an instructional DVD.
Pros of the Leigh Super 12″ Dovetail Jig
It features a metal alloy as well as an aluminium construction
It provides for half-blind dovetail creation
The product can cut both half -blind and tail board at once
It's very easy to use despite the vast array of feature son offer.
The Cons
This is the most expensive jig in our top 5 list
Bottom-line
This Dovetail Jig is undoubtedly among the finest dovetail jigs that available in the market today.
The dovetail jig is very well made, versatile, as well as very easy to use.
The Leigh Super Jig was extremely close to being our top-rated pick as a result, (losing out only on price, and the fact the Porter-Cable includes so many great templates if you choose the recommended package).
---
3. Woodstock D2796 12-Inch Dovetail Jig with Aluminum Template
This unique dovetail Jig from Woodstock features a cam-action clamp that quickly locks 2 boards in place at the same time.
You know where we are going with this; tails and pins can be cut with only one pass of the router.
This of course results in faster, more accurate results.
Another great feature is the large, easily-modifiable knobs that are provided as an alternative to the wing nuts you normally find on dovetail jigs.
These offer greater handling and ease of use.
Everything mounts to your benchtop quickly and efficiently, which is good considering the tool features a heavy, strong steel design; sturdiness is the name of the game here.
The model also has horizontal as well as vertical cam action clamps which securely keep your wood in position.
This dovetail jig from Woodstock also makes half-inch half-blind joints and can easily handle stock that ranges from 1/2 to 1-1/4-inch in thickness and up to 12-inches in width.
The jig comprises a half-inch aluminum template as well as complete instructions.
For compatibility, the router needs a 7/16-inch guide bushing as well as a 1/2-inch fourteen-degree router bit that has a 1/4-inch shank.
Pros of the Woodstock D2796 12-Inch Dovetail Jig with Aluminum Template
It is very easy to use
It features a well Built design that's very durable y
It allows you to create top quality dovetail joints very quickly
The Cons
Due to its steel construction, the jig is on the heavy side.
Bottom-line
This model offers good precision for the price.
A recommended dovetail jig on account of its affordability and sturdy design, however it does lack versatility when compared to other jigs in our list.
---
4. MLCS 6406 Pins and Tails Half Blind Dovetail Jig Set
This compact jig is designed for making strong half-blind rabbeted dovetail joints as well as half-blind dovetail joints.
In other words, it is a good solution for boxes and drawers where the classic dovetail joint will be used throughout.
It is capable of cutting 1/2″ – 1″ drawer sides as well 5/8″ – 1″ drawer fronts with a width of up to 12″.
The jig allows you to cut each side of the half-blind dovetail joint at once, making operation nice and efficient.
The jig provides guides for self-spacing edges which offers you proper offset for a clear-cut joint alignment.
As this unit is one of the more entry level priced jigs, it is good that the user manual is so comprehensive; it offers plenty of details to get you started.
Specs are slightly limited when compared to the other jigs in this list; the provided templates create a 3/4″ tail that's spaced 1-1/8″ on center.
Pros of the MLCS 6406 Pins and Tails Half Blind Dovetail Jig Set
It has no permanent templates; you make your preferred spacing template (with either fixed or adjustable spaced slots)
The absence of fixed templates allows you to cut longer dovetail pieces
It has a solid construction suitable to the demands of the workshop
It features a detachable routing insert
The Cons
The model can only support 1 dovetail bit
Bottom-line
This is a very convenient tool that has the ability to mark dovetails of up to 1″ long and it features 2 ratios: 1:5 for softwood as well as 1:8 for hardwood.
The jig makes marking of the angles to be simple and also precise; overall a great starter jig for those that do not need the versatility of some of the more expensive units in our top 5 review round up.
---
5. Keller Dovetail System
Woodworkers need more than just hammer and saw to make a project turn out just as it was envisioned. You can accomplish some things with simpler tools or eyeballing measurements, but fine projects will require something more precise.
This becomes especially noticeable when trying to fit together a smooth joint between two sides of a piece. A mistake here will render the rest of the piece lopsided, and so particular care is called for.
Among the more common ways to form such a joint is the dovetail, a system by which teeth and indentations at the edge of a board lace with those of another board to hold the finished product together. To construct this joint properly, carpenters will often turn to a dovetail jig to hold wood in position for the many detailed cuts needed to execute it properly.
The Keller dovetail jig offers the woodworker the precise measurements and stability needed to form a smooth dovetail joint, with intervals between ⅛" to ¾" make sure you can cut pins and tails with no need to waste wood on testing your router.
This jig is made to accept all the standard router bits and can be used on any length of wood, making it a handy companion for projects small and large alike. The hardened phenolic plate means the fingers are able to withstand contact with an active router, making this a more forgiving tool than most.
Pros of the Keller Dovetail System
Multiple increments and shapes
Useful on any length of wood
Cuts both pins and tails
Compact back-to-back design
Durable material will not break from router accidents
The Cons
No integrated clamping system
Opaque materials with no viewing port to see what you're doing
Bottom-line
With the Keller dovetail jig, you can be sure of smooth and precise cuts for your furniture and construction projects for a long time to come, no matter what style or length of joint you need.
---
Best Dovetail Jig Buyer's Guide
In this buyer's guide, we will take a look at what it is you should look out for when buying a dovetail jig. On the surface, there isn't much to the tool.
And while they obviously do not have the complicated amount of components you find in your everyday power tool, you will still want a jig of quality where everything works reliably and is configured properly upon arrival in your workshop.
What is a dovetail Jig?
We shall start at the very beginning a briefly explore what a dovetail jig actually is.
Most of you will be aware of what a dovetail joint looks like, (see image below for a reminder).
Image Credit: V Ryan
The dovetail is an excellent woodworking joint that works with strength and efficiency while being decorative too.
They are generally used in areas where two components are to be joined at right angles, (thus making them one of the most widely used joints in the trade).
Other jobs such as end-to-end jointing can also be achieved with the dovetail.
The dovetail is a time-consuming joint to cut by hand, and that's where the jig steps in.
A dovetail jig is a simple tool that holds corresponding pieces of material in place so that accurate tails and pins can be cut using a woodworking jointer.
Those pieces will then correspond perfectly for an ultra-fine finish.
Guesswork, repeat measuring and the luck/expertise required to cut a dovetail by hand are made obsolete once you own a reliable jig.
The job becomes very simple indeed.
Benefits of using the best dovetail jig
Image Credit: Popular Mechanics
The major benefit of using a dovetail jig is speed and efficiency with which you will be able to cut the joint.
Not only will you be able to create strong dovetail joints with your new dovetail jig and router, but the fixture also holds both workpieces simultaneously.
This translates to both the male and female dovetail cuts being made together. It doesn't get more accurate than that.
The dovetail jig can also be used to cut tails, pins, half-blind and standard dovetails.
In short, there is very little reason to cut dovetails 100% by hand in modern-day woodworking.
**Know someone who's looking to add a useful tool to his arsenal? Check out this comprehensive guide about the best bow saw!**
What to look for when buying the best dovetail jig
Dovetail jigs are good value for money. Rarely will you need to pay over $250 to get a jig that will fulfill your needs?
There are a few issues you should consider before you buy:
Budget – How much are you willing to pay for one of these tools?
Intended Use – What size jobs will you intend to carry out? The jigs vary in how versatile they are in this sense; you will need purchase one that is suitable for your style of woodworking.
Versatility – How many styles of joints do you wish to make. A jig capable of a wide range of joints will very often cost you more.
So with those personal questions in mind, let's take a wider look at some of the attributes you should look out for when buying a dovetail jig.
Reliability – Fixing everything in place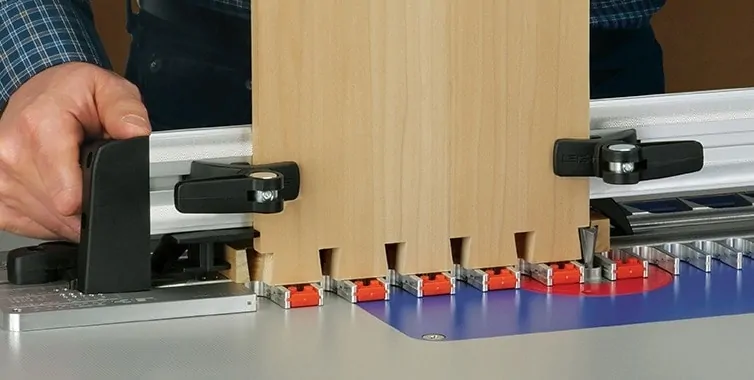 Image Credit: Leigh Jigs
Probably the most important factor with any jig is the reliability of the fixture mechanism.
If the jig does not hold the material solidly in place you are going to have problems.
Rest assured there is nothing more annoying than a piece of wood slipping mid-cut just because your jig isn't up to the job.
The issue here is the quality of the jig components such as the clamping bar and adjustment mechanisms.
If these are poorly constructed and/or configured your tool will become a headache rather than a help.
The best way of finding out the performance of the jig in this regard is to read up on reviews, see what other customers have had to say, and if possible get your hands on one for a trial.
**Looking for a great biscuit cutter for your woodworking tools? Here's our detailed guide, see more about it here!**
Adjustment features & Stops
Image Credit: PorterCable.com
We mentioned the adjustment features in the point above.
Reliability is a big factor so that you know your materials will be held in place throughout the cut.
However, in order to achieve those perfect joints, the adjustment features of your chosen dovetail jig have to be accurate.
In order to ensure your jig is aligned correctly, some incorporate side stops into the design.
Look out for this as these will allow you to correct any offset for the pins and tails of the joint automatically.
Essentially, you will not have to think about how the parts you cut will align. The side stops will ensure that the finished joint will fit together perfectly.
Easy of use
The whole point of the dovetail jig is to make life easy.
It stands for reason that you will want to buy one that is simple in design, with easy and accessible tool adjustments.
Larger jigs are generally easier to use as there is more room available for all the mechanisms – they are less fiddly than smaller models where everything can feel a little crowded.
Larger jigs are also easier to use with projects that demand space.
You should also opt for a tool that doesn't require extra bits and pieces in order to configure it or hold it in place.
Some jigs will also come with templates and guides to help you get started.
Look out for these in the small print as these are very handy, especially if you are using one for the first time.
Nothing extra required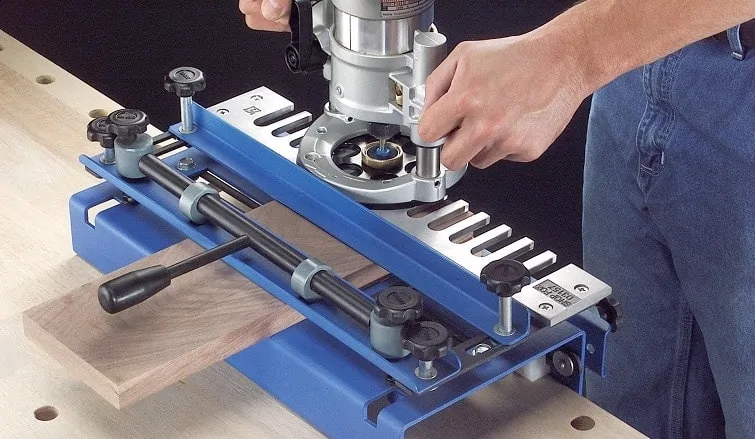 Image Credit: WoodStockInt.com
Finally, you should make sure that the jig you decide to purchase has everything you need to get started.
Cheaper units have been known to cut corners by omitting certain pieces of equipment on the assumption the average woodworker will have them already.
This is unacceptable. Once you open the box on your brand new dovetail jig, you do not want to go hunting through the toolbox for little extras to make it work properly.
Everything should be there, ready for you to get cracking on those joints.
Related Content: Best Bolt Cutters, know the cutting limits of the set you are after!
---
Image Credits
:
Start Woodworking
,
Lumberjock.com
,
Popular Mechanics
,
LeighJigs.com
,
PorterCable.com
,
WoodstockInt.com