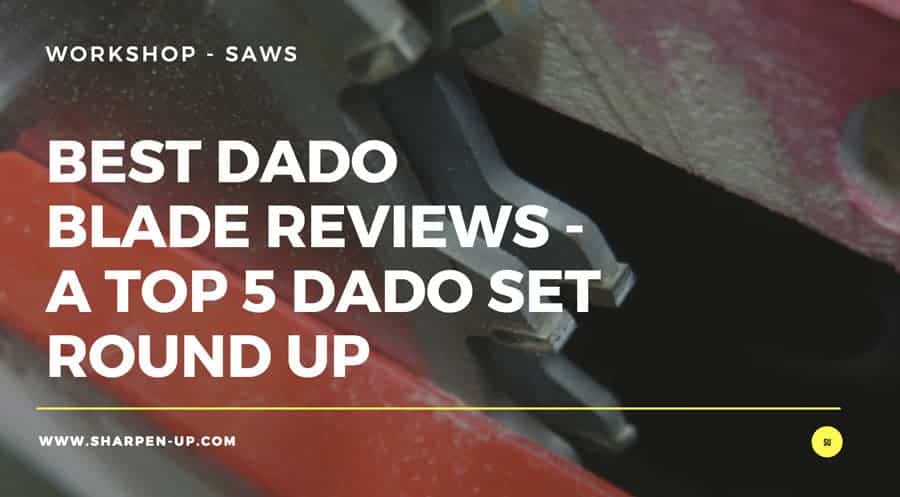 One of the best add-ons you can buy for your table saw is a quality stacked dado blade.
​The dado blade provides excellent versatility. Rabbets, dadoes, and groove, as well as tenons, can all be achieved using the tool.
Want to cut some spline slots? Or maybe a box joint, all these and more can be created with the Dado Blade.
However, what is the best Dado blade you can buy on the market today?
There's certainly a wide range available. To answer that very question, we have taken a look at 5 of the best rated Dado blades for sale.
For our top picks at a glance just check out the table below. For full in-depth reviews of each and a dedicated buyer's guide; keep on reading.
---
Best Dado Blades Top 5
PRODUCT
FEATURES
TOP PICK
1. Freud 8 Inch Super Stacked Dado (SD508)

Features Premium TiCo HI-Density Carbide Crosscutting Blend for Maximum Performance
Silver I.C.E. Coating prevents build up on the blade surface and keeps the blade running cooler and cleaner
All blades and chippers come with Freud's anti-kickback design

Check Price
RUNNER UP
2. DEWALT DW7670 8-Inch 24-Tooth Stacked Dado

Heavy gauge, laser cut plates provide true, accurate cuts
Micro-grain carbide teeth deliver clean cuts and reduce splintering
4-tooth chippers give smooth, flat bottom cuts

Check Price
3. Oshlun SDS-0842 8-Inch, 42 Tooth Stack Dado Set

Professional grade C-4 carbide
Full body chippers
Precision ground carbide tips

Check Price
4. Forrest DK08244 Dado King 8-inch Dado Blade Set

A heavier than normal steel plate maintains maximum stability for the best cut
A negative face hook also adds to optimum rigidity when cutting
Each blade is hand straightened to run out of .001- or .002-inch for maximum cut quality

Check Price
5. Mibro Group 416381 8-Inch Stacking Dado Blade Set

Cuts smooth and precise grooves with clean edges, square shoulders and flat bottoms
Set includes two 8″ outer blades, five two-wing chippers and seven metal shims for fine adjustments
Slot widths range from 1/4″ to 13/16″, in 1/16″ increments

Check Price
---
Best Dado Blade Set Buyers Guide
Image Credit: Cmtutensili.com
The different types of Dado Sets
Before we dive into our best dado blade review section, it is important to clear up a few details first.
What is it for a start?
For the uninitiated, a dado set or dado blade is a special collection of blades that are stacked together for wide cuts.
It is shaped like a circular saw blade but is normally used with a table or radial arm saw. The width of a dado set can be anything from 1/8 inches right up to ¾ inches
When buying a dado set it is important to understand that there are in fact two main types available: The stacked dado set and the wobble dado blade.
Let's take a closer look at the difference.
The Stacked Dado Set
Image Credit: Oshlun.com
The stacked dado set is made up of two circular saw blades with a set of removable chippers in the middle.
The systems work in the following way:
The outside blades are designed to cut the dado walls

The inside chippers simultaneously remove the waste material.

This process makes the bottom of the dado smooth.
To make a wider dado, the operator need only add more chippers between the blades. Chippers can also be spaced out with spaces to fine-tune the width of the cut dado.
(One of the downfalls of the process is that to adjust the width, you do need to remove the entire dado blade set from the arbor).
The Wobble Blade
Image Credit: SimpleCNCRouter
The alternative dado is the wobble blade (sometimes called the wobble or adjustable dado).
This is an adjustable dado set made up of a circular blade that is connected to an adjustable multi-piece hub.
The angle of the blade changes in relation to the arbor, depending on the setting of the hub.
To increase the width of the dado cut you only need to adjust the angle of the blade so that it moves further from the arbor.
This system allows you to adjust the dado width without removing the blade.
However, with that being said, accurate adjustment can prove awkward due to the fact that tightening the arbor nut often changes the overall adjustment.
Another downside to wobble blades is that you can only create flat-bottomed dadoes at one width setting.
They also vibrate more than stacked dado sets which can affect precision work.
Related Content: Click here for reviews on the Best Track Saw
---
Stacked Dados vs The Wobble Blade
Although we have mentioned some of the details of both systems above, let's now pit them head to head.
Only then will you be able to determine which is the best dado set for your needs.
First off, one of the advantages of a stacked dado set is the precision of the cut.
Due to the nature of the 2 blade system, while the cut is being made you will see that it is flat and perpendicular to the sides.
The same cannot be said of the wobble blade. Cutting with this system will always leave a slight cove.
Furthermore, as the cut setting is moved wider, this cove becomes more visible.
The advantage of the wobble blade is quite simply the simplicity. There are fewer parts and it is faster to set up than the dado set.
However, despite these plus points, the stacked dado set remains the favorite with the majority of woodworkers.
If you want accurate, precision worked joints the stacked dado blade really is the one to go for.
---
What to look for when buying a Dado Blade Set
Image Credit: Pegsandsplines.com
One of the most important factors when buying dado blade sets are to not compromise on quality.
Because there is a wide range of manufacturers within the blade space, it means the price you can expect to pay varies greatly.
However, it is very often a case of you get what you pay for.
A low cost, unknown brand from China option is likely to be made from low-quality material. The blade will not last as long as a more reputable purchase.
Furthermore, a lower-quality set will not be as precise. The finish can be unsatisfactory and achieving flat bottoms will be more difficult.
Buying a dado blade can be seen as an investment. As a woodworker, you do not want the fuss of having to buy replacement blades often.
To avoid that you should opt for one dado blade that is strong enough to cut through the full range of materials you are likely to use.
Specifications such as 4 wing chippers are important. Look out for carbide teeth if possible.
The bottom line is the higher quality dado blade you can afford, the better.
---
Best Dado Blade Reviews
Our top pick dado blade set is the Freud SD508 8 inch super-stacked dado, complete with anti-kickback design.
This is a high-quality system that provides extremely satisfying chip-free dadoes and grooves each and every time you use it.
The two proprietary razor-sharp outside blades are strong enough to tackle a wide range of materials, from hardwood to softwood, chipboard or plywood.
Even laminate materials can be cut, (the blades are not recommended for non-ferrous metals, however).
Measuring in at eight inches, each blade has 24 teeth with 5/8-inch arbors.
Furthermore, the tips are all made from TiCo Hi-Density Carbide for increased durability and edge retention. The tri-metal brazing process also gives the blades impact resistance.
These are tough yet precise blades to work with.
The beauty of this level of cutting efficiency is the fact repeated passes are not required. This, in turn, amounts to faster results with a cleaner finish.
The precision adjustment can be achieved with ease using incremental changes of 1/32-inches.
There is also an included shim set for the all-important fine-tuning.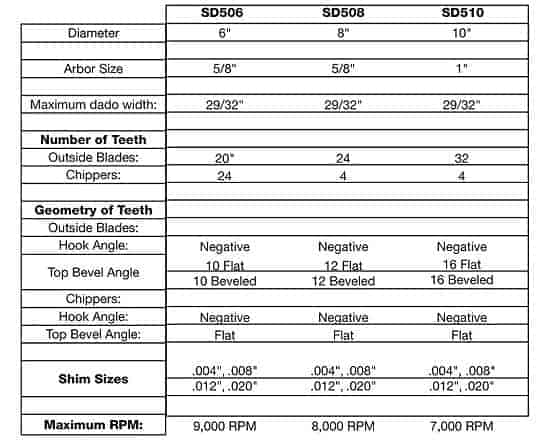 The Freud Dado Set incorporates six chippers. The following sizes are included with the kit:
A 3/32-inch chipper
four 1/8-inch chippers
one 1/16-inch chipper.
Each of the chippers has our recommended four-wing design. As we stated in the buyer's guide, this enables more efficient waste removal for smoother edges.
In fact, the quality of the cuts has seen Freud become a popular choice with cabinetmakers and home woodworkers alike.
Add the precision performance with features such as the anti-kickback operation, (which provides extra safety as you work), and you have a formidable stacked dado set on your hands.
The benefits do not stop there. Freud has designed a versatile stacked dado set with the SD508. The blades are compatible with all table saws and radial-arm saws.
To top it all off, Freud provides a Limited Lifetime Warranty.
---
Pros of the Freud 8 Inch Super Stacked Dado (SD508)
Chip-free, flat-bottom dado cuts in a range of materials
Tough blade teeth constructed using Freud's TiCo Hi-Density Carbide
The 6 chippers mean that dado widths from 1/4″ to 29/32" (in 1/32″ increments) are possible
Includes a 3/32″ chipper – (great for undersized plywoods)
Compatible with table saws and radial arm saws
Limited lifetime warranty
Comes with two outer blades, six chippers, Dado Tips & Tricks DVD a shim set and storage case
The Cons
The provided case is a bit of an after thought and isn't really a long term storage solution.
The chipper blades and shims are not labeled for thickness
---
Bottom Line
Overall the Freud SD508 8 inch stacked dado set is a high performing dado cutting option where the results speak for themselves.
Fast precision cutting in a wide range of materials is possible with this kit. And that exactly what every woodworker needs. Highly recommended.
---
2. DEWALT DW7670 8-Inch 24-Tooth Stacked Dado Set
The Dewalt DW7670 is another 8 inches stacked dado set to enter our top 5 list.
Dewalt needs no introduction when it comes to power tools and blades. A number of their products have made our top 5 lists in other categories.
So what makes their stacked dado set so special? Let's take a closer look.
First off, in a similar vein to our top pick Freud, the DW7670 utilizes a 24 teeth, micro-grain carbide construction with a 5/8 inch arbor hole.
The stacked system provides a cutting width of 29/32 inches with a depth of 1/8 inches, (recommended max RPM is 7000).
Dewalt has manufactured a versatile dado set here. To some degrees even better than the Freud; hard and softwoods can be cut using the DW7670 as well as laminates, plastics, and non-ferrous metals.
The chippers have a 4 tooth build which helps ensure efficient removal of the waste as you cut.
The end result is much smoother, flat-bottom cuts than can be achieved with stacked dados that use only 2 blade chippers, (as many of the budget options do).
The 6 chippers supplied with the Dewalt include:
4 x 1/8-inch,
1 x /16-inch,
1 x 3/32-inch.
Stainless steel shims are also included to give you extra-fine control over the dado cutting width.
Dewalt also provides a heavy-duty storage case (another plus over the Freud) so that your blades are safely packed away when not in use.
---
---
Pros of the DEWALT DW7670 Stacked Dado Set
Robust heavy gauge plates (laser cut) for superior results
24 micro-grain carbide teeth construction for cleaner cuts
4-tooth chippers (6 in total of varying sizes)
Stainless steel shims for fine tuning width adjustment
Heavy duty storage case
The Cons
Very few cons can be found here. Like the Freud the price is towards the top end of what you can expect to pay for a stacked dado set, however the quality is very much in evidence.
---
Bottom Line
As the manufacturers state themselves in their own marketing materials, the Dewalt DW7670 is the ideal option for cabinetmakers and woodworking professionals.
Clean cuts and a build quality that will certainly stand the test of time. Difficult to fault.
---
3. Oshlun SDS-0842, 8 inch, 42 Tooth Stack Dado Set
Oshlun is a very well respected brand in the area of work saw blades. The company has a long pedigree with its innovative approach to the needs of today's woodworkers.
Let's see if the SDS-0842 holds up to that tradition.
First off the kit is a 16 piece stack dado set. Professional C-grade carbide has been used on the teeth, (the end result are blades that stay sharper for longer).
However, just look at that high tooth count. Coming in at 42, it is more than double the competition reviewed in our top 5 best dado blade round up.
A general rule of thumb is that the more teeth you have, the smoother bottomed dado cuts you can achieve.
The range you have to play with here using the Oshlun is a very respectable 1/4-inch to 29/32-inch.
A nice addition is the small score marks on the outer edges of the blades.
These are designed to help eliminate tear-out and splintering of the material being cut.
The set includes a shim set for fine adjustments on the cutting width. There is also a full-color storage case to keep everything safe (including any wandering fingers) when the blades are not in use.
---
Pros of the Oshlun SDS-0842, 42 Tooth Stack Dado Set
42 teeth construction
Strong Professional grade C-4 carbide ensuring the blades stay sharper for longer
Full body chippers for efficient clearing of waste
Shim set for ultra fine width adjustments
Color storage case for after the work is done
The Cons
Some users have experienced teeth breakage (a side effect of the high number maybe)
Loading and loading the stacked set onto your machine can be cumbersome
---
Bottom Line
Oshlun is definitely seasoned pros when it comes to saw blades. Many woodworkers and metalsmiths understandably swear by them.
And while the SDS-0842 stacked dado system is an excellent tool, (ultra-clean cuts with the 42 teeth blades); it is marred with a couple of minor flaws that should be considered before you buy.
---
4. Forrest DK08244 Dado King 8-inch, Dado Blade Set
Forrest is yet another brand in the saw blade product space that has garnered lots of praise in recent years.
With the DK08244 dado king blade set, it is easy to see why. This is a superior blade set with some great features.
First, the smoothness of the results is impressive. The blades run very quietly, with backside tear-out in plywood kept to the absolute minimum, (a fete hard to achieve with modern thin-grade plywood).
The manufacturers have opted for a new 300-degree ATB tooth style here.
This helps prevent the splintering of ply veneers when cutting using both radial and table saw machines.
Attention to detail is the name of the game with Forrest. As they state in their sales copy – their blades are 'almost hand made'.
Not only is the plate hand-tensioned (up to 15 minutes per blade) in the factory workshop, the superior C-grade 4 carbide teeth are also hand-brazed to the plate.
The list continues. During the construction of the Forrest dado king set, each blade is actually hand straightened for maximum cut quality.
This level care extends to after purchase support too. Forrest offers a sharpening service for when your blade requires some TLC.
---
Pros of the Forrest DK08244 Dado King, 8-inch Dado Blade Set
Extra sturdy steel plate for maximum stability during the cut
The added feature of the negative face hook adds to overall performance and rigidity
Each blade is hand straightened for maximum cut quality
The new 300-degree ATB tooth style helps prevent splintering of material.
The Cons
At the time of writing, the Forrest DK08244 Dado King 8-inch is the most expensive dado set in our top 5 list
Some users have experienced lacklustre customer support
---
Bottom Line
The Forrest DK08244 Dado King 8-inch has received a lot of great customer feedback. Robust build quality with some extra features to keep even the most veteran woodworker content.
They are premium priced, however, but as we said in the buyer's guide – you do get what you pay for when it comes to dado blades.
---
5. The Mibro Group 416381, 8-Inch Stacking Dado Blade Set
The Mibro Group 8″ Dado Blade Set is the most budget-friendly of those reviewed in our top 5 best dado set review roundup.
Cutting capacity is reduced as a result. What you have here is a range between ¼ inch to 14/16 inches.
5 twin tooth chippers are supplied, (note the only 2 tooth chippers rather than 4). These include 4 x 1/8 inch size as well as a 1/16 chipper.
A total of 7 shims form part of the 14 piece kit. These allow for more precision width adjustment over the use of the chippers.
Despite the budget approach, the 8-inch outer blades and chippers do incorporate carbide tips.
This is a great addition that raises the quality of the Mibro Group dadoes above the other competing blades at this price point.
A compact plastic case is also supplied to ensure teeth do not cause any damage, (nor get broken) while the blades are not in use.
---
Pros of the Mibro Group 416381, 8-Inch Stacking Dado Blade Set
Durable carbide tips on both the blades and chippers
Adequate cutting range from 1/4″ to 13/16″
Chipper dimensions come in at 4 x 1/8 inches and 1 x 1/16 inches
Includes 7 metal shims and a compact plastic case
Affordable price point
The Cons
Build quality is not as good the other dados in our list
The chippers are only twin teeth
---
Bottom line
If you are on a budget the Mibro Group 416381 8-Inch Stacking Dado Blade Set is definitely a worthwhile option.
The construction is robust enough, and the 5 chippers along with the metal shims do provide a decent level of accuracy.
However, for superior results, you are certainly better off buying one of the other Dado sets in our list.
---
Best Dado Blade Specification Buying Guide
As we mentioned above, when it comes to matching dado blade specifications with your needs, looking at the blade TPI (teeth per inch) is an important factor.
Generally speaking, the higher the TPI the better the saw will be at cutting harder materials.
Another way of looking at it is the fact more teeth will provide a slower finer cut, while fewer teeth mean a faster, rougher cut.
Another spec you may have seen mentioned in our review section above is the subject of the hook angle.
When you see a dado blade listed as having a 0-degree hook angle, it means it is intended to be used with a table saw.
Those blades that come with negative hook angles (most commonly -12° and -5°) are better used with radial arm saws.
The majority of the saws reviewed in our round-up are universally designed for greater versatility This makes them compatible with both table and radial arm saws.
---
The most common joints cut using the best Dado blade set
To finish off this article, we thought we would take a little time to talk about exactly what kind of cuts you can make with your new dado blade set.
Knowing what your tool is capable of is the first step in getting the most out of it after all.
The Dado joint
Image Credit: Craftsmanspace.com
First up is the good old dado joint (obviously – hence the name).
However, for the sake of clarity, the dado joint is a slot cut into the surface of a material.
However, the cut is perpendicular to the grain which differentiates the dado from a groove which is cut with, or parallels to, the grain.
The Rabbet
Image Credit: Craftsmanspace.com
No, not the fluffy, jumping kind; the rabbet is, in fact, a recess or groove cut into the edge of the work material.
Viewed in cross-section the rabbet is two-sided. It is open to the edge or to the end of the surface of the material that is being worked on.
The finger joint (or comb joint)
Image Credit: V. Ryan
This is a woodworking joint made by cutting rectangular cuts into two pieces of wood which are then glued together.
A finger joint, when done correctly, is stronger than a butt or lap joint, and can be used to add to the finished aesthetic of a project.
---
The tenon
Image Credit: Craftsmanspace.com
The tenon is inserted into a square or rectangular hole cut into a corresponding piece of material of the project.
It is cut to fit the mortise hole exactly. Tenons will normally incorporate shoulders which can be sat neatly into place once the joint fully enters the mortise hole.
---
How to install the best dado blade set (Video)
Hope this guide would help you determine what's the best dado blade for you!
Image Credits: Flair Woodworks, Pegs & Splines, Craftsmanspace, technology student, CMTUtensili.com, Oshlun.com, SimpleCNCRouter.com