If you want to make clean efficient joints without unsightly screws or bolts one of the easiest ways of doing so is with the best biscuit joiners.
But what is the best biscuit joiner on the market today?
That's exactly what we have set out to answer. For our findings at a glance, just head to the table below.
For in depth reviews on each of our top 5 picks, plus a dedicated biscuit joiner buyer's guide, keep on reading.
---
Top 5 Best Biscuit Joiners
---
Biscuit Joiner Buyer's Guide
Image Credit: CanadianWoodworking.com
What is the Biscuit Joiner and how does it work?
A Biscuit Joiner (or Plate Joiner as some like to call it) is a useful woodworking tool with the function of joining two pieces of wood together.
Furthermore, using a biscuit joiner means that screws, nails or bolts are not necessarily required in order to make the strong joint.
The tool helps the operator create internal plunges that hide the joint and secures the materials in place.
This is done by cutting a slot into the wood. The creation of a small piece of wood (known as a biscuit – hence the name of the tool), is then inserted into both sides of the work material for the joint to be made.
The biscuits can be created in a variety of sizes depending on the demands of the project in hand.
Being predominantly used for woodworking projects the biscuit joiner can be used for a wide selection of joint making tasks.
Whether you're building furniture, working with interior and exterior trim, making door panels, table tops of face frames – The biscuit joiner is the go to tool of choice for fast and simple joints.
---
What to look for when buying the best biscuit joiner (Plate Joiner Reviews)
Plate Joiner Power
When it comes to power tools, the amount you're packing under the hood is always important. The biscuit / plate joiner is no different.
Larger, heavy duty projects and materials will require more power. So, if you are going to be taking on such work often, you will need to invest in a joiner with the highest specs possible.
Conversely, if you only plan on doing smaller hobby projects a lower amperage unit will suffice. Bottom line is, before you buy you should consider carefully the types of work you will be doing.
The Motor
A double-insulated motor is a good thing to have as it increases overall durability and hardiness. For extended use you are less likely to burn the motor out.
Also, you should consider the fact that precision cuts do not require the largest motor. A smaller motor will make for a lighter tool that will be easier to handle for the more detailed jobs.
We recommend that you look for a Biscuit Joiner around the 5-7 amps mark, with a motor that comes in at 10,000 RPMs.
This will give you an optimum level of power and manageability, for the majority of woodworking tasks.
Plate Joiner Plunge action
On a plate / biscuit joiner the "plunge" is the initial cut you make into the material. A smooth plunge action is imperative here. If your tool of choice creates uneven plunges, your joints will not be flush and secure.
In short, the biscuits will be uneven and you will not be able to achieve that professional finish all woodworkers aspire to.
The Fence
Another important consideration when buying a biscuit joiner is the fence. The fence is the part of the tool that enables the user to align the machine with precision.
You should look out for a tool that offers 90 degrees of adjustment to provide as much versatility as possible. A good fence will allow you create perpendicular, vertical and horizontal joints with relative ease.
Biscuit Joiner Blades
Image Credit: Youtube.com/User: On The Workbench
A tight and obviously sharp blade is important. The joiner you buy should not opt for basic low grade materials here as this will directly affect the performance of your tool, plus the finish you can expect to achieve.
Another important variable you need to consider is blade size. You need to ensure that you have the correct blade for the job in hand.
Also bare in mind that a larger blade will be more difficult to work with. For standard woodworking jobs the four-inch blade should fit the bill. For larger jobs and professional woodworkers, a 6 to 8 inch blade will be of use.
Handle features
A comfortable handle with an ergonomic design is definitely recommended if you will be using the biscuit joiner for long periods of time.
Even if that is not the case and you will only be using your tool occasionally, it doesn't hurt to opt for something that is balanced in the hand, feels good to hold and offers sufficient user control.
The best way to ascertain this if you do not have the option of testing the tool before purchase is to read industry and user reviews to see what the standard opinion is.
Overall Accuracy
Putting all the above together, the most important consideration when buying a new biscuit / plate joiner, is accuracy.
A comfortable handle with a grip that won't slip, accurate plunge measurements, a fence that works properly and reliably with sufficient control, and the right sized motor will all affect the precision you can achieve.
Make sure that it all amounts to a tool that performs for the types of projects that you plan to do.
---
Top 5 Biscuit Joiner Reviews
A quality biscuit joiner combines accuracy, durability, efficiency, and ease of use.
These list of top 5 best biscuit joiners, updated for 2019, offer all these traits and more.
Let's take a closer look…
Manufactured for balance, the Dewalt DW682K is one the most durable and affordable plate joiners on the market.
Power is good with the 6.5 Amp, 10,000 rpm motor buzzing away under the hood. This ensures that even the hardest of woods can easily be worked with.
Its dual rack and pinion fence are designed to keep the blade and the fence parallel at all times.
This ensures a completely symmetrical and accurate joint each time. You can make flush cuts at 0 degrees without even having to remove the fence.
Dewalt have sensibly included a 45-degree option in the fence which allows for easier indexing off the miter joint.
The heavy-duty aluminum shoe keeps the joiner clamped if you require stationary work. It is extremely durable and stable, which is fit for any one-time or heavy-duty job.
Enter your text here…
Enter your text here…
AMPS

6.5 AMPS

DEPTH ADJUSTMENT

YES

DUST COLLECTION

BAG

POWER TOOL TYPE

CORDED

TOOL HEIGHT

6.75 IN

TOOL WEIGHT

6.6 LBS
Pros of the DEWALT DW682K 6.5 Amp Plate Joiner
Its balance of rotating adjustments make it versatile for almost any kind of wood product.
The new spring-loaded attachment holds it tightly against any work surface, guaranteeing steadiness. It offers countless cutting techniques for even the most unique of jobs.
It is one of the more forgiving models if you make a slight mistake or misjudge your aim.
It is adjustable to any kind of job, making it well worth its affordable price.
Cons
It might be more challenging than other models for repeatable cuts, but what it lacks in repetition, it makes up for in versatility.
It will walk upon startup, but only if the handle is pressed down.
---
Bottom Line
In our opinion the DEWALT DW682K 6.5 Amp Plate Joiner is one of the top biscuit joiners on the market today.
This new model comes with an adjustable fence for accuracy and a pinion to guarantee that the fence and blade are always parallel.
The fence comes in one-piece, which is designed for convenience. It can be indexed outside of normal registrations, making it a truly versatile tool.
---
2. PORTER-CABLE 557 7 Amp Plate Joiner Kit
The PORTER-CABLE 557 7 Amp Plate Joiner Kit is an industry leader, and one of the top joiners on the market. Porter-Cable have made sure that their tool is one of the most powerful motors available, which is a 7-amp motor that rotates the blades at over 10,000 rpm.
The fence can tilt anywhere from 0 degrees to 135 degrees for ultimate flexibility. It also has an adjustable stop at 90 degrees for all of those standard projects.
The plate joiner comes with seven different cutting settings, making it readily available to cut through most types of wood.
The 4" blade is good for making standard-size cuts, and the centering plate keeps it parallel with the fence at all times. This model measures 7" high, weighing 7.5 lbs. as one of the lighter weight models available.
The adjustment knob can guarantee proper biscuit positioning, no matter what type of large or small job you're using it for. Overall, it is a premium make that offers optimized control and flexibility.
7.0 Amp, 120 V, AC only, 10,000 rpm
1″ O.D. dust port accepts standard bag or can be connected to a vacuum
Fence tilts from 0° to 135° with positive adjustable stop at 90°
Precise micro height-adjustment knob
Lock-on trigger
Includes 4″ diameter blades for standard biscuit cutting
Height scale accurate at any angle
Seven-position rotating depth stop for FF, #0, #10, #20, Simplex, Duplex, and Max (#6) biscuits
---
Pros of the PORTER-CABLE 557 7 Amp Plate Joiner Kit
There are several features of this model which make it worthy of our top 5 list:
The bale grip handle is attached to the fence, rather than in most models where it's attached to the motor. This is stated to increase overall stability in the users hand.
It comes equipped with a lock-on trigger for accurate height readings and perfect stabilization each time.
It can also come equipped with a 2" blade rather than the 4" blade, which is better for face-frame biscuits.
You can easily handle cuts smaller than most.
There is a seven-position rotating depth stop for any king of joining.
Cons
A minority of customers have had some issues with the stability of the fence. If the fencing is loose, it may need to be adjusted by the factory.
The fact that the grip handle is attached to the motor instead of the fence may not be the preferred method for some users.
---
Bottom Line
The PORTER-CABLE 557 7 Amp Plate Joiner Kit is an extremely efficient tool that offers versatility and flexibility.
The extra blade can reach cuts as small as 1.5", making it handy for unique projects.
The inventive handle and positive adjustable stop make it much easier to position than previous models.
There is also a new keyhole-slotted blade cover for removal and changing, ensuring safety at all times.
---
---
3. Makita PJ7000 Plate Joiner
The Makita PJ7000 Plate Joiner is one of the smaller models on the market, and one of the best in terms of delivery and performance.
Its 5.6 amp motor offers up to 11,000 rpm for precise cutting.
The rack and pinion vertical fence system is adjustable and flexible, offering several stops to ensure accuracy as well.
It is equipped with a cast aluminum pivot fence. The stops are located at 0 degrees, 45 degrees, and 90 degrees for all standard and easy-to-make cuts.
Makita have included sixth depth settings on the PJ7000, many of them being one-touch stops. There is an improved handle with a larger grip, making it easy to stabilize and keep still.
The body, however, has become smaller, and is more ergonomically designed for long-term use. The cam locks are large, and the fence can easily be adjusted.
Blade Diameter :

4″

Max. Cutting Depth :

3/4″

No Load Speed :

11,000 RPM

AMPS :

5.6

Overall Length :

11-7/8″

Net Weight :

5.5 lbs.

Fits biscuit sizes #0, #10, #20 :

Yes

Max. no load speed :

11,000 RPM

Power Type :

Corded
---
Pros of the Makita PJ7000 Plate Joiner
The Maikta comes with a non-marring rubber insert on the shoe, which prevents it from potentially slipping. Most biscuit joiners do not offer this type of protection.
The blade cover and shaft lock are slim and quick for fast blade changes.
The cast pivot fence comes with three positive stops, and its newer and sleeker design makes it much more comfortable to use.
It offers much more power than the average joiner, making for clean cuts in any kind of wood. It can even be used for harder and engineered woods.
Cons
The narrow slot of the die-cast aluminum foot is narrower than before, which some users may have trouble with as they try to line it up over the wood.
The binding fence mechanisms can come loose during heavy use.
The dust collector does not always work well at certain angles, and therefore a protective eyewear piece is still advised.
Bottom Line
The Makita PJ7000 Plate Joiner is a great tool for beginners and advanced woodworkers alike. It can be good to use in classrooms, as its smaller design is easily transportable. It is equipped with powerful functions and sturdy equipment, making it easy to learn for any kind of new job.
The depth adjustment knob is much easier to read than past models, and the fencing can be locked into place on almost any kind of wood. This plate joiner comes equipped with a dust collector as well, so there's less to clean up afterwards.
---
4. TruePower 01-0102 Biscuit Plate Joiner with Carbide Tipped Blade, 4"
The TruePower biscuit plate joiner is a small yet powerful model that can be used for a variety of large or small projects.
It offers a max cutting depth of .55", with a cutting angle between 0 and 45 degrees. The fencing is also heavily adjustable, offering several stops.
It seems TruePower have set out to design a model intended for strong miter joints, butt joints, corner joints, and edge-to-edge joining as well with this affordable tool. It comes equipped with a portable dust bag, which can help clean up any sawdust messes.
The tool weighs 8.4 lbs., and measures 19" long, making it a durable and heavy-duty joiner. The motor runs at 8.4 amps, offering 120 volts and 1010 watts, which can easily cut through most types of wood.
The fast-acting 4" blades offer deep cuts, making it a worthwhile investment for any type of project.
---
Pros of the TruePower 01-0102 Biscuit Plate Joiner with Carbide
This model allows you to make adjustments for boards of any thickness. You can stray from standard board sizes with no issue.
It offers some of the most value for the price, offering many more attachments and adjustment capabilities than its previous counterparts.
You can easily double up the biscuits if you need something ultra-durable.
The model is easy to use, which makes it a great choice for beginners.
Cons
The biscuit can tend to leave extra room within the cut, which may cause some accuracy issues.
The dust collection apparatus cannot hold too much sawdust, so prepare to clean up a mess still. Protective eyewear is also advised.
While it is good for standard drawers, doors, and counters, it does not offer as much flexibility as some of the more industrial-sized models.
It is also a lighter-weight model, which may not be to everyone's preference.
---
Bottom Line
The TruePower 01-0102 Biscuit Plate Joiner with Carbide Tipped Blade, 4" is one of the most stable and affordable models on the market. We have rated the tool as one of the best 5 biscuit joiners due to its flexibility and simple use.
It is a great tool for journeymen, or for those just starting out and joining their first pieces of wood. It can be attached to almost any kind of wood and can cut extremely thick boards – which is a rare find among biscuit plate joiners. It is affordable, making it a great economic choice for standard and common projects.
---
5. Lamello Classic X 101600 Biscuit Joiner
A durable and new model, this Lamello biscuit joiner is an extremely fast and stable piece of equipment.
It weighs 10.5 lbs., making it great for heavy-duty projects. Lamello have fitted the tool with a newly designed motor, offering 780 watts and a more ergonomic design.
The blades can reach speeds of 10,000 rpm. The blades measure 100 millimeters, making them a solid fit for almost any kind of wood.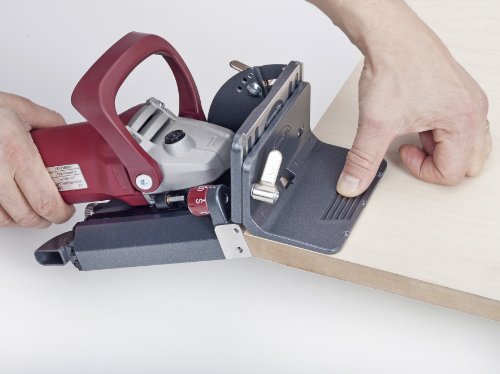 There is a newly designed base plate that swivels, making it easy to stop. The front stop and square stop are directly on each side of the fence, making it much easier to position than with previous models.
Each part is CNC cut for precision and accuracy. There is a guidance system to ensure the most accurate grooves and the most symmetrical alignment possible.
tabs][/tabs]
---
Pros of the LamelloClassix X 101600 Biscuit Joiner
This model is one of the more ergonomic and heavy-duty joiners on the market, making it widely efficient for any type of job.
Professionals can enjoy the heavy use and stability of this particular joiner.
The side shoe is made from a precision-milled metal, making each job line up perfectly flush.
The fence has positive stops at all of the necessary angles, including 0 degrees, 22.5 degrees, 67.5 degrees, and 90 degrees. This is more than other models offer, making it more diverse and flexible.
The slides and locks on the bottom of the plate make it easy to attack to any kind of wood and guarantee stability.
Cons
The side thumb toggle switch may be difficult to adjust, making it hard to reach the toggle at times.
It is one of the more expensive models; while being worth the investment, it is large and complex for someone who is just beginning.
There is no adjustment on the fence, but a spacer can be used.
It does not come with a dust bag attachment, meaning it may cause a mess.
Bottom Line
While the Lamello Classic X 101600 Biscuit Joiner is an expensive piece of equipment, it is well worth the investment due to its heavy-duty advantages and would possibly rank as the best biscuit joiners you can buy.
It is equipped with accessories and CNC-milled adjustments that are not available on any other type of model. While there are no adjustments on the fence, the blade comes with all of the common stops and then some. It can easily cut into any type of wood, and is flexible enough to reach any type of angle.
Related Contents:
---
Image Credits: ToolStop.co.uk, CanadianWoodworking.com, Youtube.com/User: On The Workbench, Makitatools.com